An elderly man succumbed at the Georgetown Public Hospital (GPH) on Friday, a day after he was struck by a taxi.
Bernard Ignatius Blake, 71, of 1743 Pioneer Lane, South Ruimveldt Park, ventured onto the road just after 6 am on Thursday. About 30 minutes after he left, relatives received a phone call informing them that he was involved in an accident on Aubrey Barker Road.
The car that struck him is attached to the Cyril's Taxi Service, the relative said, while noting that the car transported the injured Blake to the GPH after the accident. The driver is now in custody.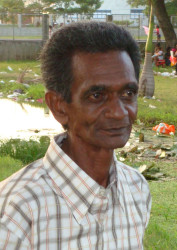 Blake lived alone and would take care of his overseas-based relatives' property.
He had collected a key for the property a short while before the accident as his relatives were preparing to leave the country.
When relatives rushed to the GPH, they learned that Blake was admitted in the Accident and Emergency (A&E) area and he was not responding to them. They said a CT scan and an x-ray were done and they revealed that his brain was bleeding.
Blake subsequently succumbed around 1.50 pm on Friday.
He was well known in his community for his experience in electrical repair and he would often fix appliances for persons at no charge.
Around the Web