An Essequibo Coast housewife was yesterday afternoon stabbed to death by her husband, who is now hospitalised in a critical condition after slashing his own throat.
'G' Division commander Superinten-dent Kevin Adonis confirmed the murder and attempted suicide, which occurred around 3 pm.
Dead is Malini Narine, 24, who sustained multiple stab wounds to her body. Her husband, Vishnu Narine, 25, is currently a patient at the Suddie Hospital.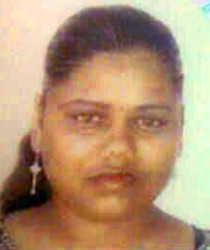 They both resided at Lot F Paradise, Essequibo Coast, in the bottom flat of a two-storey building, where her father and sister occupied the upper flat. They have told detectives that the couple constantly argued.
Adonis told Stabroek News that detectives are in possession of a cutlass and a knife which are suspected to have been used in the crime. The implements were found on a bed next to the couple.
According to Adonis, Vishnu Narine is an alcoholic and is known for frequently beating his wife.
Adonis said that around 2.30 pm, the woman's sister went downstairs after she heard the couple arguing. About half an hour later when she checked, she found both of them covered in blood on a bed in their bedroom. The man was lying on top of the woman panting for breath.
The woman had multiple stab wounds about her body and was already dead when her sister checked. When Vishnu Narine was checked, it was discovered that he was still alive although his throat was slit. It is believed that the wound was self-inflicted.
Malini Narine's death comes days Guyana observed International Day for the Elimination of Violence against Women. She is the second woman to have died at the hands of a partner in the last week.
Last Monday, Melissa Skeete died after she was reported to have been repeatedly stabbed by her partner during an argument. The stabbing occurred in the man's car, out of which the wounded woman was tossed.
Skeete, a mother of four and a Georgetown Public Hospital employee, died shortly after being rushed to the hospital. The suspect later turned himself over to the police and has since confessed to fatally stabbing the woman after she allegedly drew a blade on him.
Last week, Women and Gender Equality Commission member Nicole Cole had pointed out that even though there had been some advancement in legislation to tackle domestic violence, women are still dying.
Around the Web