Small business owners came out in their numbers to showcase their skills and products at Guyana's first Business Expo, held this year in lieu of the annual GuyExpo.
The three-day event at the Sophia Exhibition Centre, which ends today, aims at not only providing income-earning opportunities for businesses but also allowing the testing of new products and services in preparation for Guyana's 50th independence anni-versary celebrations next year. A wide range of service and, art and craft booths lined the available spaces with some of the more interesting displays including those by Wooden Memories, the Institute of Applied Science and Technology, Everything Makes Art and Brian Gomes photography.
For Chhman Sukhha, owner of Wooden Memories, the expo is a viable way of turning his hobby of wood etching into a potentially successful small business. Sukhha's wood etching, a print making technique that can be used to create unique, artistic pieces, revealed works displaying Guyanese culture as well as other more personal works.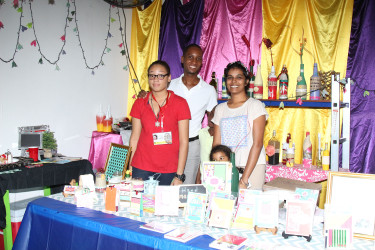 According to Sukhha, who has been doing this for the past 10 years in both the US and Europe, he was invited to participate in the expo by both the Small Business Bureau and other persons who had seen his work. And while he lauded the efforts being made to promote small business, Sukhha noted that much more attention should be paid to organization if Business Expo is expected to meet the standards of North American Trade fairs. "I think there is a learning curve here, hopefully they get it right by next year," the businessman said.
A 'crafty' experience was put together by the 'Everything Makes Craft' booth, which displayed how household trash can be used to create one-of- kind pieces such as vases, photo and mirror frames, through upcycling. Having previously participated in GuyExpo, founder of Everything Makes Craft Christine Forrester said the expo did not receive enough publicity leading up to the opening as they only had two months to pull everything together. Forrester stated that due to short preparation time, she will not go hard on the organizers this year.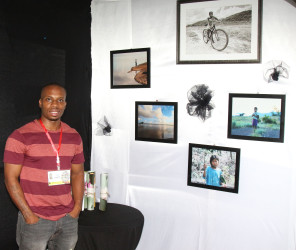 Meanwhile, the staff of Institute of Applied Science and Technology (IAST) showcased various uses of rice. Apart from the locally produced rice cereal, which debuted at GuyExpo last year, there were health bars and pasta along with samples of biodiesel made from rice husk, coconut oil and palm oil. According to one representative of IAST, the biodiesel is used to power the diesel engines in the IAST facility at the University of Guyana.
In a nearby booth, Photographer Brian Gomes was promoting what he described as a "product that is worth exhibiting." Though he had an 18+ sign attached to it, Gomes's display of his 'Made in Guyana' calendar drew mixed responses from members of the public. However, the calendar which captured the embodiment of unclothed women in an artistic landscape, received the compliments of Minister of Tourism Cathy Hughes, who took a minute to visit the booth.
Noting that he worked really hard throughout the year to create his product, Gomes said he saw Business Expo as the perfect stage to not only market his calendars but to also allow people to appreciate the type of artwork he does.
Around the Web