With November being National Epilepsy Awareness Month, University of Guyana (UG) Medical School student Christopher Martin France, who was diagnosed with epilepsy last year, is using his experience and knowledge about the illness to raise awareness and reduce the stigma that surrounds it in Guyana.
Speaking to Stabroek News yesterday at the end of an epilepsy awareness walk that was organised by the Epileptic Foundation of Guyana, the UG medical students association, and the University of Guyana Students' Society (UGSS), France, who organised the first walk and is an executive member of the Epilepsy Foundation that was founded last year, said that most of the motivation he has harnessed came from the fact that he has had firsthand experience with the illness and the fact that he is a medical student.
"The first time I had a seizure, that I was aware of, was last year March and I wasn't even entirely sure that it was a seizure when it happened. I just know when I woke up I had urinated myself and my tongue was bitten," France said. He recalled his first attack and explained that while he had a vague idea that he had had an epileptic attack, he was not entirely sure until it happened several times after.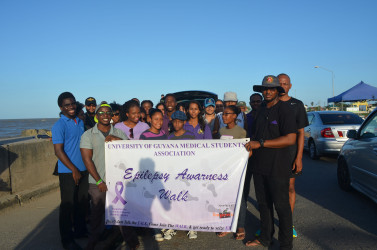 "What made me sure was that eight weeks after the first attack, I had about nine others and that is when I was convinced that it was epilepsy," he added, stating that after the attacks got worse he visited the doctor and was immediately placed on medication.
His inspiration for setting up the first Epilepsy Awareness Walk came from an experience that involved him writing a blog and doing his own research on the illness. "At that time I was writing a blog with a few friends and was doing my own search and one of the things that I learned was that November is Epilepsy Awareness Month and I decided to write something on epilepsy," he said, pointing out that after he had written the blog, a friend reached out to him and mentioned that while she was unaware that he was affected by epilepsy, her brother also had the same illness and told him that she would support him if he wanted to do anything. He said it was at this point in time that he realised that he had the support and platform to do something and the idea of the epilepsy awareness walk took root.
"At that time I was a member of the UGSS so in order to fund it I approached the President, Joshua Griffith and he was very accommodating and helpful with funding and it was organised by myself with a great deal of help from the UG medical students society and so it was their walk," he explained. He said that while planning the walk the idea of starting a foundation also came to mind but they later found out that there was one already in the midst of being organised and as such they invited the budding organisation to take part in the walk which invitation was happily accepted. He said that while the foundation was up and running since last year, he received an invitation to join the executive body from the founder, Dr. Thomas Singh, which he happily accepted and as a result this year's walk was a joint undertaking by the Epilepsy Foundation, the UG medical students society, and the UGSS.
"I'm passionate about it because it's different when you're affected by it and I realise being epileptic that there are a lot of people who are still misinformed and they don't know what it is," France explained, stating that his fear of potentially having a seizure one day and people not being able to assist him because of their lack of knowledge and understanding of epilepsy is one of the major driving forces for his campaign. He said that he feels as if it is his duty to make sure the people around him are educated.
One of his aims is to curb the antiquated conceptions that surround the illness. He said "there's still some people who believe it's caused by demonic possession and some people who still don't completely understand it or know what to do when someone has a seizure and so I feel like I would be doing a great injustice to not try to educate people. I know better so I have to make sure that other people know better as well."
He said that while he is personally affected by epilepsy, it is not always on his mind as he does not consider it as a debilitating disorder that prevents him from functioning on a daily basis but it has and continues to be an obstacle as he, and all other epilepsy patients, have to worry about simple things that a normal person would not have to worry about.
"I have to worry about not getting stressed too much or not getting enough sleep because they trigger attacks and especially as a medical student, pulling an all-nighter isn't something I can afford anymore. We have to be careful with things most people take for granted," he said, stating that aside from a phenomenon called sudden death of an epileptic patient (SUDEP) which is currently not fully understood, epileptics in general have to deal with daily things that are very dangerous such as traveling and being along. "Little things can be dangerous and normal day luxuries that most people have, epileptics have to think twice about," he added, highlighting that the fact that he is able to use his illness as a means of creating awareness, it balances out the negative side and he is grateful that he is able to make a difference in people's lives.
"I am not thankful that I am an epileptic but I am thankful for my experience that I can use to help people who are going through the same thing and for me being able to make a difference to take this huge obstacle and make something positive out of it that can benefit other people for me is incredibly satisfying," he said. He added that he is extremely gratified with the progress that the organisation, which has only been up and running for a year, has made so far. The organisation recently brought several doctors from the United Kingdom to lecture medical students and citizens about epilepsy which was a success.
Around the Web