A city constable was shot to his groin by two armed bandits during a robbery at Bourda Market last evening.
The bullet reportedly exited Constable Aaron Henderson's groin and struck a woman Savitri Singh, 43, in her left leg. The bandits escaped with a bag containing $2 million.
Both of them were said to be in stable condition up to last evening at the Georgetown Public Hospital (GPH).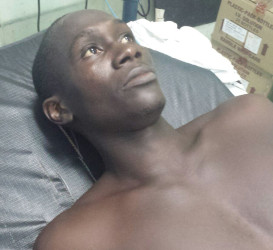 The police in a press release said that revenue collector Euril Lowenfield was being escorted by City Constable Aaron Henderson at Regent Street and Orange Walk, when they were attacked.
A police source told Stabroek News that Henderson was escorting the City Hall revenue clerk who was carrying cash on Orange Walk just after 6 pm. As they were approaching Regent Street, the two bandits, who were awaiting on a motorcycle, attacked. "Before he could have fired, he was already shot," a source told Stabroek News.
The source indicated that the police have leads on the suspects. It is suspected that the robbery may have been an inside job.
A vendor close by said that she was about to close her stall and had just returned inside when she heard a gunshot. However, she thought that it was a squib since many persons were still traversing the area. However, the sounds of footsteps running and loud cries which suddenly erupted led her to look out, where she was greeted with a crowd of persons and the injured woman lying on the ground.
Officers from the City Constabulary at Bourda promptly responded and transported the victims to the GPH.
Meanwhile, City Hall's acting Public Relations Officer Debra Lewis said that the City Police have since organised an emergency meeting as they continue to strategise to tackle crime in the city during the Christmas season.
Around the Web