More than half of the potable water produced by plants in Linden is lost through leaks or breakages in the distribution system and Chief Executive Officer of   the Guyana Water Incorporated (GWI) Dr Richard Van West-Charles has called for consumers to be vigilant and report leaks immediately.
In Linden last week to present the GWI's structured programme to improve service to its over 30,000 customers in the Region 10 town, a GWI release said, Van West-Charles revealed that GWI will be partnering with community and religious leaders, parent teacher associations and the business community to create an awareness campaign on reporting leaks and curbing wastage, because approximately 58% of the water produced in Linden is unaccounted for and this usually results in lower levels of water pressure for the customer at the end of the distribution service.
Meanwhile, the GWI release reported that the plan focuses on repairs to leaks and breakages in the distribution network, enhancements to the water treatment facility as well as upgrades to the filtration system at West Watooka and Mackenzie.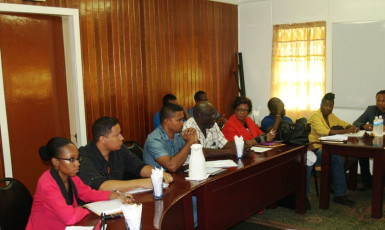 Also to be addressed are the operational challenges at the new water treatment facilities in Wisroc and Amelia's Ward, that were constructed under the Government of Guyana and Inter-American Development Bank (IDB) Linden Water Supply Rehabilitation Programme (LWSRP). During testing both facilities were found not to be operating at full capacity and further investigations revealed a flaw in the filtration system was at fault. Leakage and wastage were also highlighted as contributing to low levels of service in these areas.
At the meeting, also attended by Region 10 Chairman Rennis Morian, Regional Executive Officer, Gavin Clarke, Region 10 Members of Parliament Audwin Rutherford and Jermaine Figueira, members of the business community and other relevant parties, Van West-Charles indicated that GWI had developed an action plan to rectify the fault in the filtration system, following consultations between an IDB consultant and a company team.
The CEO explained that the first step will be to substitute mechanical aeration with chemical oxidation by means of sodium hypochlorite and this along with other technical recommendations will enhance the performance of production facilities resulting in improved service.
The release also reported that the company is requesting the patience of the Lindeners as it mobilises the necessary labour, tools and equipment to implement a programme to repair leaks and decommission old mains.
Around the Web