The husband of Melanie Narine who was found dead in her Paradise, Essequibo Coast home on Saturday had threatened to kill her three weeks ago.
Robin Tulsie, the father of the dead woman said yesterday that his daughter and her husband Vishnu Narine had gone to Narine's sister's home three weeks ago when the sister's husband died.
"…The next thing I hear is that he come home hay for a cutlass and gone and threaten fuh kill she.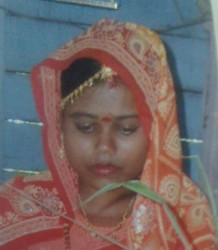 The police went and collect he and he bin in lockup but then them loose he," Tulsie related.
He added that his daughter and her husband put the issue behind them after her husband's sister begged her to forgive him. But on Saturday, three weeks later, he stabbed and slashed her to death and then slashed his own throat in the bottom flat apartment of her father's home where they lived.
"De bai and meh daughter ain't really live hay long with me," Tulsie said, "because them use to live Onderneeming Sand Pit.
Is only a month and a half now since them come to live here. De bai use to control she. Because he never deh want she wear pants and she couldn't talk to nobody and so."
He added, "Vishnu sister come this morning [yesterday] and say that he still deh bad in the hospital because he throat slit more than one place."
Tulsie was not at home when his daughter was murdered. He was at the seaside and was called home urgently by his younger daughter who was upstairs and had heard the couple quarrelling, followed by her sister's screams.
"When I reach hay, a set of people was already in the yard so I didn't really come inside to see what happen because everybody say that she deh done dead," Tulsie said.
"When the police come I just gone and peep lil."
'G' Division Commander Kevin Adonis said that a post-mortem examination is expected to be conducted on the remains of the 24-year-old woman by state pathologist Dr Nehaul Singh.
Her husband is still hospitalized at the Suddie Public Hospital and is said to be in a critical condition.
The woman leaves to mourn a four-year-old son.
Around the Web