A Guyana Defence Force (GDF) Lance Corporal was yesterday remanded to prison after he appeared before a city court for a charge of cannabis possession. Nicholas James, 23, of Lot 104 South Better Hope, was alleged to have had 278 grammes of cannabis for trafficking on November 27, at Devil's Hole Landing, Cuyuni.
James pleaded not guilty to the charge.
According to James' attorney, the accused had gone to Cuyuni to collect parts for an engine and while the man was awaiting the items, a group of persons had been offloading articles nearby.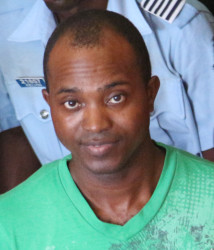 Soon after, police ranks approached the scene and the individuals nearby fled, leaving James to account for a black plastic bag the ranks later found containing cannabis.
His attorney further stated that James had no knowledge, possession or control of the substance and submitted that there were multiple persons there at the time the narcotics were discovered. He said according to reports reaching him, James had been charged because he was the one closest to the bag when it was uncovered by the police.
The prosecution objected to bail being granted to the accused but the defence made a submission that if bail were to be denied, James be released into the custody of GDF, where they have facilities for detention.
Bail was refused by Magistrate Fabayo Azore and the defendant was ordered to be remanded to the Camp Street prison. James will be required to make his next court appearance on December 7, before Chief Magistrate Ann McLennan.
Around the Web