The family of 57-year-old Colin Clarke is hoping that anyone with knowledge of his whereabouts will contact the nearest police station or family members.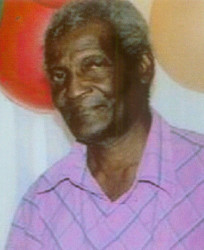 His sister Jacquelyn Clarke who spoke with Stabroek News yesterday said that her brother has been missing since Friday and a police report was filed on Saturday.
Clarke of Lot 134 Crane, West Coast Demerara drives a taxi. He went missing after leaving home around 15:00 hrs on Friday in the silver Allion licence plate HC 4993.
The missing man's sister noted that her brother was well known as he has been a driver for the majority of his life, while he recently started working as a taxi driver, he had driven minibuses in the past.
She said that he worked between Crane and Vreed-en-Hoop and that he was a man of quiet disposition.
Family members are very concerned about his safety; his sister told Stabroek News that he has never gone missing before and he recently lost his mobile phone so they have no way of contacting him.
The missing man's family is asking anyone who has knowledge as to his whereabouts to call Jacquelyn on 601-3235, Maureen on 254-1766 or his niece on 655-6848 or contact the nearest police station.
Around the Web