The trial of Balram Singh, who is accused of murdering taxi driver Bomeshwar Sukhdeo, yesterday heard that the deceased's vehicle was found at a Herstelling body shop, where work was done to hide the original chassis number.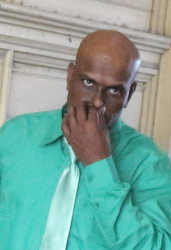 The charge against Singh is that he murdered Sukhdeo between January 19th and January 27th, 2010. He has pleaded not guilty.
Police Constable Devon Bowen, who was one of the witnesses who testified yesterday, recalled discovering Sukhdeo's partly-burnt remains.
Bowen said he received a report of the alleged abduction of Sukhdeo and the hijacking of the car he operated on January 19th, 2010.
He said that while on duty at the Providence Police Station on January 27th, he made contact with Sukhdeo's father-in-law, Bhoop Singh, who gave him fliers identifying the missing Sukhdeo and his car.
He said that sometime later on the same day, he received certain information and resultantly went to a section of the Mocha access road, where he observed what appeared to be the burnt head of a human body under a tree.
According to Bowen, after informing his superiors about the discovery, he later caused the scene to be processed, after which he escorted the burnt remains to the Lyken Funeral Home for a post-mortem examination to be conducted.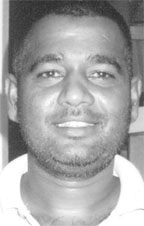 Bowen also testified about receiving information and going to a bodywork shop, located at 25 First Street, Herstelling, East Bank Demerara, in the company of Bhoop Singh, and they saw a vehicle believed to be Sukhdeo's.
The witness told the court that Bhoop Singh used an original key which he had in his possession to start the vehicle. Bowen said that upon their arrival at the shop, he observed that the vehicle bore no registration number.
On further examination of the car, the constable said he realised that the chassis number had been tampered with.
Testifying also was Deputy Superintendent of Police and Licensing and Certifying Officer Ramesh Ashram. He too said that he examined the vehicle and noted that the chassis number had been tampered with.
Ashram said he initially saw the chassis number to be EE10060193 but upon closer inspection observed that it had been placed over AE1000301892, which corresponded to the number on the vehicle registration.
He said too that the engine number, which was also recorded on the registration, matched when he inspected the car.
The owner of the body shop, Sookdeo Dookie, in his testimony, said that the car had been taken to him by two men, whom he identified as "Bharrat" and "Papa." He said that he did not know the men's real names.
He noted that he would do work for Bharat from time to time and the man approached him to do some work on the vehicle in question, which he did. Dookie explained to the court that he took a metal strip off of a crashed car and placed it onto the car in question.
Justice Navindra Singh, who is presiding over the trial, enquired from Dookie his reason for removing that metal number from one vehicle and transferring it to another and whether he knew that was wrong but still went ahead and did it anyway.
Dookie seemed to be at a loss for words when questioned by the judge, who appeared shocked by the witness's revelation.
Under cross-examination by defence attorney Jermaine Jervis, Dookie was asked whether he knowingly took the metal plate from the crashed car and placed it on the car in question, to which he answered "yes."
Dookie then went on to add, "Well yes, he [Bharat] asked me to do him a favour and I did."
Asked if he had been arrested in connection with this matter, Dookie told Jervis no but said that the police did detain him for questioning, after which he gave a statement.
Responding to questions from Jervis under cross-examination, Superintendent Ashram said that it is an offence for someone to knowingly tamper with the chassis number on a vehicle.
Asked whether he caused anyone to be arrested in connection with the discovery he had made regarding the tampered chassis number, Ashram said that he passed that information on to ranks at the Criminal Investigation Department, who conducted further investigations.
He, however, said that he did not know whether anyone had been charged in connection with the tampered chassis number.
Testifying at yesterday's hearing also was Bhoop Singh, who said that he and Sukhdeo's wife were able to identify his son-in-law from missing dentures which he had in the lower left-side of his mouth and the texture of his hair.
Detective Sergeant Yohan Henry, who arrested the accused, also testified. He recalled receiving certain information, as a result of which he went to Lot 85 Second Street, Agricola, where he contacted Singh.
The witness said that he told Singh he was in receipt of information that he had abducted Sukhdeo on the night of January 19th, 2010.
According to Henry, the accused responded to him by saying, "Me ain't know nothing of what you talking about."
The accused is on trial before Justice Singh and a 12-member jury at the High Court in Georgetown.
Seven of the state's 15 witnesses have so far testified.
In her opening address, prosecutor Narissa Leander said that Sukhdeo, who operated his car outside Guyana Stores Limited, went missing on January 19th, 2010 and was found eight days after.
She said that Singh was later arrested and charged.
Singh is being represented by Jervis in association with attorney Clevaun Humphrey.
The trial continues at 9 this morning.
Around the Web