The De Kinderen Community Group has successfully completed its first project, construction of a bridge to link De Kinderen and Meten-Meer-Zorg, GINA said yesterday. The project was done in collaboration with the residents, and with financial support from the business community.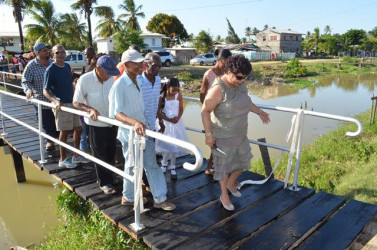 The release said that this is the first of many projects which the group intends to undertake for the development of their community.
This project was initiated to create better infrastructure for the residents in the West Coast Demerara community, thus giving them a better life.
Delivering remarks at the simple ceremony on Sunday last, Minister of Social Cohesion Amna Ally said that the coalition government is determined to bridge existing gaps across Guyana.
"You know …I am told, the school children can now utilise this bridge to get to school, without having to use the public road. Isn't that thoughtful? And so it is good to know that the residents of this community can make a contribution and provide a better life for all the people of De Kinderen", GINA added.
Around the Web