A verdict on the gun and ammunition possession and escaping custody charges against Regan Rodrigues has been postponed to January.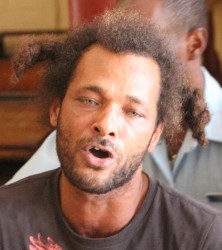 This was revealed on Monday by Magistrate Fabayo Azore, who stated that she was unable to complete the decision by November 30th, the date initially set. The decision is now scheduled to be delivered on January 11th, 2016.
In July, Rodrigues, known as Grey Boy, was fingered as a suspect in the murder of political activist, Courtney Crum-Ewing after a gun that was allegedly found at his residence was linked to the crime. Reports stated that the weapon was found by police when they conducted a search of the man's Riverview, Ruimveldt home, during which he fled, but turned himself in a day later to police. It was alleged that ballistic tests later carried out on the weapon confirmed that it was used in Crum-Ewing's killing.
Around the Web