Akiem Balgobin, the father of the new-born who fell from a cot at the Georgetown Public Hospital Corporation (GPHC), has filed an over $20 million lawsuit against the hospital.
In the suit filed on Azim Balgobin's behalf, through attorney Anil Nandlall, the GPHC is accused of negligence and causing injury to the infant as a result.
Last month, the hospital said in a statement that the infant had fallen off the cot on which he was placed an hour after his birth on November 3rd and sustained injuries.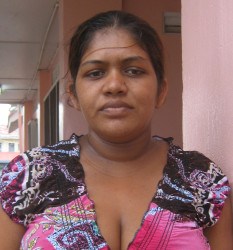 The infant's mother, Phoulmattie Ramjattan, had told Stabroek News that as a result of the fall, the child suffered a fractured skull and had bleeding in his brain. Three days after the fall, the infant underwent brain surgery. The surgery, which was described by Minister of Public Health Dr George Norton as successful, saw the removal of blood clots that had developed as a result of his fall.
According to court documents seen by Stabroek News, Balgobin is seeking $10 million for "negligence as a result of the acts and/or omissions of servants and/or agents of the Defendant which occurred on or about the 3rd day of November, 2015," and $10 million for "personal injuries, pain and suffering of and to the Plaintiff occasioned by the negligence…."
The statement of claim states, in part, that the infant's injuries were occasioned by negligence in that the hospital, by its servants and/or agents, among other things, failed to adequately monitor the infant; failed to employ and have available competent nursing staff to assist with post-delivery care; and failed to ensure his safety.
It further noted that to date the infant is still being treated for the injuries sustained and continues to endure pain, suffering and anguish, while his parents have suffered loss of earnings in excess of $200,000 since they have to care and nurse him.
Around the Web