A Lusignan resident is calling for action to be taken against her neighbour, whose daily burning of wood, she says, is affecting her health.
Narissa Deokarran, in a letter to the press, said she has been constantly complaining for more than four years to the Mon Repos/La Reconnaissance Neigh-bourhood Dem-ocratic Council (NDC) about the air pollution, which has immensely affected her quality of life and cripples her with respiratory problems.
Deokarran charges that her neighbour's "outdoor cooking set up," which uses wood, and a structure erected in front of his yard to burn garbage, produce so much smoke that she is constantly sick and has become dependent on medication.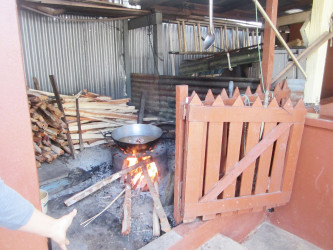 She also says that despite repeated complaints to the NDC, the Regional Democratic Council (RDC), Ministry of Communities and the Environmental Protection Agency (EPA), her
neighbour, Mohanlall Kissoon, has failed to relocate his fireside or use a more environmentally-friendly way of preparing food.
Stabroek News visited the area on Monday and spoke with both neighbours.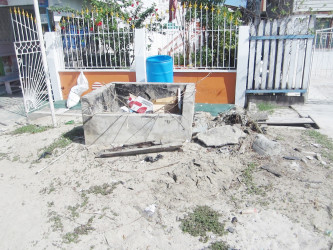 Kissoon verified most of Deokarran's story, however, he claims that rather than failing to act, all the entities to which his neighbour has complained have visited his home and found that he is not causing her harm.
This claim was disputed by Deokarran, who showed this newspaper a letter in which the NDC directed Kissoon to "desist from burning garbage" and affecting other residents within the area. The letter, dated April 4, 2015, noted that it was the last warning for Kissoon, who had previously been warned on "numerous occasions by the Environmental Health Officer and the NDC." It also called for Kissoon to dismantle a structure on the reserve in which he had been burning garbage. This has not been done.
Kissoon explained that because of this letter and a lawyer's letter, dated August 10, 2015, he has stopped burning his garbage.
"They send me a lawyer's letter so I stop burn de rubbish. Ask the NDC. Every day, I does take my garbage for dem to dispose of," Kissoon said.
He also said that he has made every effort to stop the smoke from reaching his neighbour, including building a shed to "catch" the smoke.
For Deokarran this is not nearly enough. "They have the fireside right next to the fence and our house is close to the fence so when the sea breeze comes, the smoke comes to my house. It's even worse when the place is still because the smoke builds up. Why can't he use a stove?" Deokarran questioned.
Both the letter from the NDC and Deokarran's lawyer threatened legal action against Kissoon if he failed to comply.
When Stabroek News made contact with the NDC, it was told that the overseer and all other individuals who could comment on the issue were presently on leave. However, Deputy Regional Chairman of Region 4 Earl Lambert told Stabroek News that legal action in cases such as these is difficult to pursue.
He explained that while the NDC bylaws prohibit the disposal of solid waste by burning, he is not aware of any bylaws which would address the use of a fireside to cook. "The NDC is powerless to act in such a case. That is a matter for the EPA. In order to take it to court, you will need scientific evidence to prove the impact of the smoke and so forth," Lambert explained.
Around the Web