A 48-year-old Reliance, Essequibo Coast man was yesterday remanded to prison after he allegedly confessed to the police that he murdered 74-year-old Surspattie Ramlakhan called `Aunty Carmen' between February 19 and 20 at Richmond.
Michael Stephney, a labourer appeared before Magistrate Sunil Scarce at the Anna Regina Magistrate's Court and was also charged with two counts of robbery and the possession of a smoking utensil.
The man who was not represented at court by an attorney was not required to plead to the charge of murder but however pleaded not guilty to the possession of a smoking utensil.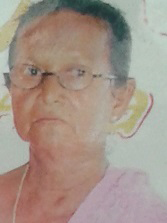 It is the police's case that the man murdered Ramlakhan, 74, called 'Aunty Carmen,' of Lot 47 Richmond, Sideline Dam, sometime between February 19 and February 20.
The police also alleged that on November 20th, he robbed the dwelling house of Sabina Glen at Bushlot where he stole articles adding up to the value of $77,700.
The other charge stated that on November 29th, at Bushlot, he also robbed Juliet Banwarie of $8000.
According to the police, Stephney had an improvised pipe for smoking cocaine on November 29th at Bushlot.
The charges were read consecutively to the man by the Magistrate and he was remanded to prison until December 16th when the cases are expected to be called at the Anna Regina Magistrate's Court.
Around the Web