City Constable Aaron Henderson, who was shot during a $2 million robbery at Bourda Market on Monday, has been discharged from the hospital.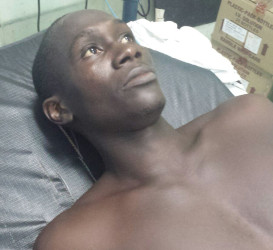 City Hall's acting Public Relations Officer Debra Lewis said Henderson, who was shot to his groin, is doing well.
The perpetrators are still at large and the City Constabulary has since been collaborating with the Guyana Police Force to investigate the attack, Fraser said.
Henderson and a woman, Savitri Singh, were both wounded in the robbery.
The constable was at the time escorting City Hall's revenue clerk Euril Lowenfield, who was carrying a bag containing $2 million when two men attacked and opened fire, hitting Henderson in the groin and wounding Singh to her left leg.
The men escaped with the cash on a motorcycle.
The cash was the total revenue from Bourda stall holders for the entire month. A source told Stabroek News that it is suspected that the robbery may be an inside job because the robbers appeared to have been aware of the exact date and time when the clerk was carrying the cash. The City Council has since been looking at different ways of handling the collection of the revenue.
Around the Web