Facing criticism from the People's Progressive Party (PPP) that obtaining pre-commercial production payments from oil company ExxonMobil can foster corruption, Minister of Governance Raphael Trotman yesterday denied that he said that government plans to ask for upfront payments but his comments prove otherwise.
In a statement yesterday, the Ministry of the Presidency said that Trotman "is refuting claims carried in an online media report that Government plans to ask US oil company ExxonMobil for upfront payments ahead of the commercial production of oil here." Referring to a Demerara Waves report headlined 'Guyana wants ExxonMobil to front-load some oil profits for major projects,' Trotman, according to the release, said the assertions carried in the report are "false as it was never directly communicated that Government had asked the company or intends to ask the company for advances."
Stabroek News carried a similar report in Saturday's edition headlined: `Gov't to seek advance payments from Exxon – Trotman'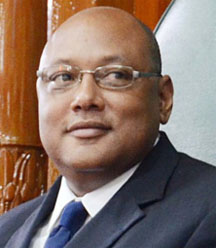 Trotman in the interview on which the report was based had said that government plans to seek pre-commercial production payments from ExxonMobil to fund a number of projects but while the discussion is not happening at this time, it must happen.
"Right now that discussion is not going on because we have inherited an agreement that was entered to with the last administration but the president of Exxon himself is coming here in January to meet with the president of Guyana and out of that engagement we are likely to sit down and have that discussion. But it is a discussion that we must have. We've looked at other countries where oil companies have made that kind of an upfront payment in anticipation but I think we need to get a better sense now of when they are likely to go to production. Of course we have some hurdles to cross. There are hurdles of jurisdiction and of course territorial challenges the very low price of oil, that is something of a hurdle," he said.
"So I don't perceive that that is immediately going to be done but certainly when the president of Exxon comes next year it will feature in our discussions," he said. When questioned on if he had any idea of how much, Trotman said that this would be the remit of Granger.
"He is the minister of petroleum. I won't know. The Minister of Finance will no doubt advise the president but I wouldn't venture into trying to put a figure," he said.
Asked what would be the advantages of frontloading, he stated that they were many.
"As an underdeveloped country, we need some infrastructural projects very fast. Government wants to open up Guyana so we're looking at things like the road to Brazil, roads into some parts of the hinterland, ensuring, for example, that we have low-cost travel by air or road to some of these places, building of, increasing our capacity, not at UG but let's say the technical institute, training scholarships those are things that we are looking at. How do you ensure that Guyanese benefit as fast as possible? We are looking at even bringing some Guyanese back who has expertise in the oil and gas sector to come home," Trotman said that while adding that some have already offered their services.
According to the release, Trotman said that he was approached by the journalist who questioned whether the Government would consider asking the oil company for funds ahead of production and, if it was afforded the opportunity to receive early payments, which area of development would the funds be channelled into. According to the minister, it was to this "hypothetical" question that he responded that government would focus on infrastructural development if given the resources.
"I also said that if those matters were to be raised it would have to be by our President when he meets ExxonMobil's president in January. I distinctly remember saying that I had no knowledge of government seeking any such money upfront," he said. According to the statement, Trotman said while Government has not received any offers to date, it will consider all possibilities which are in the best interest of the country.
On Saturday, Jagdeo criticised Trotman's comments that government plans to seek pre-commercial production payments from ExxonMobil as risky, while warning that it could foster corruption.
"We haven't even gotten the oil proceeds and he wants to spend it. Spend money you don't have, that is the old PNC…," Jagdeo told a press conference. "That puts you in ExxonMobil's pocket. Then how can you sit and negotiate?" Jagdeo questioned.
Around the Web