The coach of an Agricola under-16 football team was yesterday remanded to prison after he pleaded   not guilty to a drug charge at the Georgetown Magistrates' Court.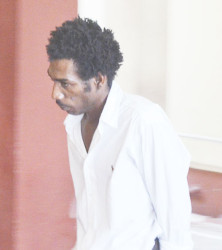 It is alleged that on November 29 at Mc Doom Public Road, East Bank Demerara (EBD), Colin John, 35, of 153 'BB' Eccles, EBD, had in his possession 21 grammes of cannabis for the purpose of trafficking.
John, who is also a food vendor, pleaded not guilty to the offence.
According to John's lawyer, on that day, his client was finished dropping off some people, when the police stopped him, searched his vehicle and found the marijuana.
The lawyer also said that John had no knowledge of the substance found in his car and will maintain his innocence to the alleged offence.
The prosecution said that the police who stopped and searched John's car found the drugs in Ziploc bags in the passenger seat.
John was remanded to prison by Chief Magistrate Ann McLennan.
He is expected to be back in court on January 4, 2016 for statements.
Around the Web