The Guyana National Shipping Corporation (GNSC) on 2 November, 2015, donated $200,000 towards City Hall's drive to return Georgetown to a Garden City.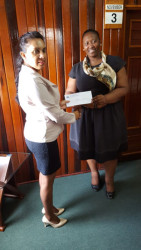 Presenting the contribution to Deputy Town Clerk, S Jerrick were Company Secretary/Corporate Manager Mohini Somaroo and Project Manager Eion Oudkerk, a release stated.
The gesture was in response to a visit to City Hall's "Green Conference and Exposition" held on October 30-31, 2015 at the Parade Ground, where they observed various booths promoting areas which contribute to a greener and cleaner Guyana.
The release said that the GNIC also collaborated with Guyana National Printers Ltd and Toolsie Persaud Ltd. In an earlier philanthropic endeavour to restore the drainage and level the overgrown grassy sections around its complex at La Penitence.
Around the Web