Leader of the Opposition Bharrat Jagdeo says President David Granger should have gone to the climate change summit currently ongoing in Paris and Guyana has lost momentum because of the lack of clarity in the APNU+AFC government's climate policy. Granger, in response, has dubbed Jagdeo's comments "misplaced, unfair and unhelpful."
At a press conference on Saturday, Jagdeo said that Guyana's advocacy at the climate talks has to be strong. "I know our negotiator who has been there a very long time, Andrew Bishop, he is going to … push strongly for the inclusion of forests but to get that included in the document we also need political support," he said. "This bothers me a lot because globally we have lost momentum because we are not clear about this government's climate policy," Jagdeo said.
The United Nations Framework Convention on Climate Change (UNFCCC) Conference of the Parties meeting in Paris, known as COP 21, is currently ongoing. Countries across the globe have committed to create a new international climate agreement by the conclusion of COP 21. The COP 21 meeting will seek a binding agreement on how to share the burden of capping global warming at 2 degrees Celsius above pre-industrial levels or lower.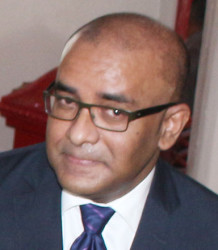 Jagdeo expressed concern that Guyana was not represented at the highest level and only a minister was sent and there has been no indication of what government's climate policy is nor its position on REDD+, the global initiative that aims to reduce greenhouse gas emissions from deforestation and forest degradation by paying tropical countries to keep their forests standing.
"I have from the sidelines tried to keep us relevant but we have lost relevance. We have lost the fight to get REDD agreed to," Jagdeo said. He said that there are many who want to keep these articles out of the final agreement so advocacy has to be strong so that when the final agreement is produced, the articles are still included.
The Leader of the Opposition said that if REDD+ is included in the Paris agreement, Guyana could have access in a major way to the global climate fund. He charged that the government has no climate strategy or plans for advocacy at the global level. Jagdeo said that what emerges from Paris will either give great hope to a large number of developing countries or be disappointing to them.
Absence
He said that Granger's absence means that Guyana would not get to speak at the highest level when heads-of-state address the conference. "We need to have leadership from the top. We need to have a national position so if we have clarity of the national position then we can all advocate for it," he said while adding that the minister does not have clarity on the various issues.
Following Jagdeo's comments, the Ministry of the Presidency in a statement said that Granger had dubbed Jagdeo's statements misplaced, unfair and unhelpful. "Even before Mr Trotman goes to Paris, to make that type of allegation, it is very unhelpful. Guyana has several challenges and I think the attitude or the perception by other countries that Guyana has a united front… would better serve (our) national interests," he was quoted as saying.
Granger said that his administration is focused on a holistic approach to managing and mitigating the harmful effects of climate change and declared that there is a conceptual difference in the approach to environmental management than that of the previous administration.
Responding to questions about Jagdeo's criticisms of the new administration's position on climate change, the President said, "If he has a strong view, we can meet and sit down and discuss it. We are an inclusive government and we are prepared to sit down and benefit from his experience. But to stay afar off and start to attack a representative of the present Government is not the behaviour we expect of a former Head of State…We are not at war with the PPP…We were the ones who held out a hand of friendship and I would welcome Mr Jagdeo sitting down and giving us the sort of brief that I feel the new government is entitled to."
Expanding on the divergence of government's position from that of what he called a deficient approach to climate change under the previous administration, Granger said that the modified policy focuses on the development of a green economy, which covers areas beyond just the Low Carbon Development Strategy (LCDS). "Many people got the impression that the whole idea, or a large part of the motivation under the previous administration, was simply to get funds. The result is that many people did not really understand how the strategy would work for them. So it is partly a question of public information [and] partly a question of considering climate change in a holistic way," he was quoted as saying.
With a focus on areas such as coastal zone management, rising sea levels, water management, energy generation and other areas, Granger said: "We have to ensure that there is a strategy for developing a truly green economy. The previous administration never even used the word green economy. It is just LCDS and funds. That is all it was. But now we are talking about the real green economy of which LCDS will be part. We are the first people to speak about that."
According to the statement, Granger touted a vision of overall ecological and environmental management and said that climate change is not a money-making venture. "It is not a device to get money from one country and simply transfer it. It is a means of transforming the economy. It is not a transfer of funds. It is a whole conceptual difference we are talking about," he said.
The statement said that while climate change continues to be one that is a critical part of the development agenda, Granger will not be attending COP21 since he needs to take some time to focus on domestic issues at home.
"I would have liked to go to Paris but it is difficult to spend that amount of time out of the country right now. There are things at home that need my attention. I had to make a decision. It was a difficult decision but I do believe that it is in the national interest," he was quoted as saying. According to the president, Guyana would be well represented at the meeting.
Around the Web