The body of missing taxi driver Colin Clarke was found today in a trench at Uitvlugt, West Coast Demerara and it is suspected that he was robbed of his car and murdered.
Clarke, 57, was last seen a week ago in his silver Toyota Allion, HC 4993, around 3 pm at his Crane, West Coast Demerara home.
His vehicle has not been located.
While Clarke's family had been optimistic that they would find him alive, their worst fears were realised when his body was found in the trench. "I don't even want to remember this day. I wake up early about 5am, as I normally do, and I went to the trench to throw away fish guts and when I peep over in it I see the body there just deh with worms all over and I jump," the man who discovered Clarke's body told Stabroek News today.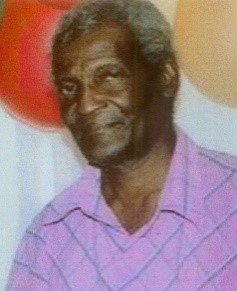 The man, who did not want to be named, said after he discovered the body he raised an alarm and alerted other residents. "Everybody come around but nobody recognised him and it seem like he was there for days but nobody ain't smell he or see anything," the man noted. He said he alerted the police, who came and retrieved the body.
Maureen Clarke, Colin's sister, explained to Stabroek News that family members were able to identify the man from his clothes and the three silver chains he was wearing. "He was killed long because his body was already decomposed badly and there was worms all over him," she said, while stating that from the information she received from the police and the marks she saw, the man was strangled. "I saw the thing they used too. It was left tangled between his chains," she said. She described the object as being rope-like, with two wooden ends.
While Clarke is a known driver on the West Demerara, he had only started using the car about a month and a half ago as it was not his. His relatives stated that the last time the car was seen was at the Demico outlet at the Stabroek Market but they are unsure whether he was driving it or not. "I don't know what to say. I guess they just wanted the car and now they have it," she added.
There have been a numbers of recent attacks on taxi drivers, several of which have been fatal.
Around the Web