Effective December 1, the Transparency Institute Guyana Inc (TIGI) now has Rev Compton Meerabux as president and Christopher Ram as its first vice president.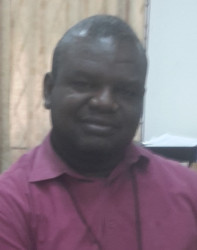 According to a TIGI press release, this new arrangement follows the resignation of former president and first vice president Calvin Bernard and Ayana McCalman, both of whom had personal and health matters which needed their attention.
Both Bernard and McCalman will continue to serve the organisation through its general membership.
Bernard however, has said he will focus his attention on leading the recovery process at the Faculty of Natural Sciences, University of Guyana, for which he is dean, following the recent fire in which he has sustained the loss of teaching and research material.
McCalman has served the board for two terms and Bernard since June 8, 2015.
TIGI extended its sincerest gratitude to Bernard and McCalman for their tireless work while serving on the board of the organisation and has also granted them both best wishes for the future.
Around the Web