Guyanese born dentist, Dr Kenneth Jainandan of Lake Mary Florida, USA, recently presented the Rotary Club of Georgetown Central with dental and oral hygiene supplies for their Dental Outreach Programme.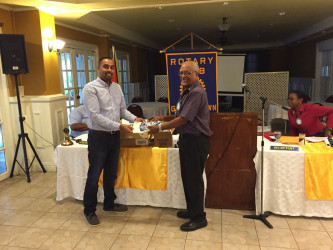 According to a release from Jainandan, President of the Georgetown Rotary Club, Ron Robinson accepted the donations on behalf of the organisation at a November 26th handing over ceremony. Jainandan also shared with the attendees that this was an initial venture, as he intends to encourage some of his colleagues in the profession to join him for periodic visits on the mobile dental unit in the future.
Jainandan who attended the University of Pennsylvania says he has volunteered widely in depressed communities overseas and the USA but has always yearned to return home and donate his expertise and resources to the club's mobile unit.
He highlighted the fact that his desire was honed as a child when he volunteered alongside his father Roy Jainandan (a member of the organisation) on the Rotary Club's mobile unit, dispensing dental supplies to patients and witnessed the positive impact the dental outreach reach programme had on those being served.
Around the Web