A Bachelor's Adventure man was yesterday placed on $150,000 bail after he pleaded not guilty to stealing a quantity of articles he claimed were rented to his company.
Branford Williams, 26, of 1266 Grant Road, Bachelor's Adventure was accused of stealing a Dell laptop, an electric fan, an APS box, five cordless phones, a router, a modem, and a GT&T landline phone belonging to Lashawna Greaves. The total value of the articles was estimated to be $249,999.
Williams, who identified himself as a website proprietor, pleaded not guilty to the charge.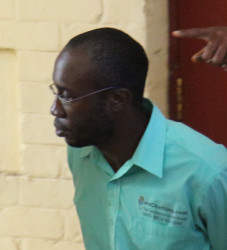 According to the defendant, he was in police custody at the Coverden Police Station when the incident occurred and so could not be responsible for any crime. He said that he had informed the police of this but that they refused to call to verify his claim. Williams further stated that the articles he was being accused of stealing were rented to his company and so he was entrusted with their care.
The prosecution, however, was quick to refute Williams' claim, while noting that he has a matter of a similar nature before the court and was convicted and fined for a similar offence in Courts 8&9. According to prosecutor Deniro Jones, it was while on bail that Williams committed the offence that he was charged with yesterday.
Chief Magistrate Ann McLennan placed the defendant on $150,000 bail and ordered that he return to court on January 13th, 2016, when the matter will be heard in Court 3.
Around the Web