The new $30.8M Cummings Park Nursery School was commissioned by the Ministry of Education on   Wednesday.
The event was attended by officials from the ministry, teachers and students of the East Street Nursery and North Ruimveldt Secondary School as well as members of the community, a Ministry of Education release said yesterday.
Construction of the Cummings Park, Sophia facility began in December 2014 and concluded in February 2015 and saw the enrolment of 28 pupils and 5 teachers on staff at the commencement of the new school term in September.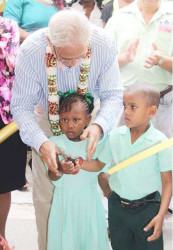 The building which can accommodate 120 pupils, now carries the total number of discrete nursery schools to 371, with 31 being located in the Georgetown district.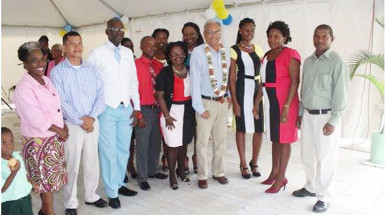 In her remarks Head Mistress Cecile Whyte-Joseph disclosed that in years prior to the institute's opening, parents often encountered deplorable roads often made worse in the rainy season and long distances, as they sought to get their children to school. The end result being non-attendance by students. A 2010 feasibility study revealed that children had to travel to either Turkeyen Nursery, 'C' Field Sophia Nursery, Sophia Nursery, South Ruimeldt Nursery or other adjacent communities to access nursery level education.
Minister of Education Dr Rupert Roopnaraine addressed the important role of teachers in mentoring students to be tolerant and respectful of others and emphasised parent-teacher collaboration since vibrant PTAs would provide the necessary impetus to instruct children. He also mentioned that a special secretariat dedicated to PTAs would be soon established at the central ministry.
While lauding the construction of the new facility and the improved access to education he said that it has not escaped the attention of this administration that students in various parts of the country, still face challenges attending school.
Around the Web