The suspect in the hit and run accident that claimed the life of teen biker Travis Bollers was yesterday arraigned in a city court on five charges, including causing death by dangerous driving.
It was alleged that Delon Duncan, 34, of Lot 982 Block 'F' Sophia, on November 26th, at Pike and Sheriff streets, drove pick-up GHH 5201 in a manner dangerous to the public, thereby causing the death of 17-year-old Bollers.
Duncan was also read four additional charges for not being in possession of a third party insurance policy; for failing to stop after the accident had occurred; for failing to render assistance to the injured teen by taking him to a medical professional; and for failing to report the accident to a police constable within 24 hours.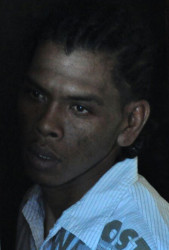 The defendant pleaded not guilty to all charges read.
Prosecutor Deniro Jones objected to bail being granted to the accused based on the gravity of the charge and the penalty it attracts. He added that two eyewitnesses had seen the defendant on the day of the accident.
According to Jones, the vehicle that was being driven when the accident occurred was recovered in a shop at Sophia, where repairs were being done. This, he said, showed the cunningness of the accused. He further stated that Duncan had only turned himself in when he realised that the police were close to making a breakthrough in the case.
Duncan's attorney, Mark Conway, in his application for bail, argued that were his client a flight risk, he had the chance to flee the country already, given the porousness of Guyana's borders, but did not. Instead, he turned himself in to the authorities. Conway then took the time to remind the court that the presumption of innocence should be applied prior to the start of trial.
The matter of causing of death was adjourned to December 29th by Chief Magistrate Ann McLennan, who also announced that the other matters would be transferred to Court 9, where they would be dealt with on the same date.
Last Thursday, around 11.30 pm, Bollers and his cousin, Quacy McCalman, 22, of Werk-en-Rust, were riding a motorcycle along Pike Street, Campbellville, headed towards Sheriff Street when they collided with the Toyota Tacoma pick-up that turned into the street.
Bollers, who was riding the bike, and McCalman, who was the pillion rider, were subsequently rushed to the Georgetown Public Hospital, where the teen was pronounced dead on arrival.
McCalman was admitted to the hospital.
Following the teen's death, his brother Eon Bollers had launched a Facebook campaign to find the driver of the pick-up, who had fled the scene. His family also staged a protest earlier this week at the Square of the Revolution to press authorities to bring the man to justice.
Around the Web