Work to rebuild the historic Umana Yana, which was destroyed by a fire in 2014, has begun and the foundation and the flooring are expected to be completed by December 31st.
According to a Government Information Agency (GINA) report, the Ministry of Public Infrastructure has started the works to rebuild the benab at its original site at Kingston. The work, which was officially started on November 18th, is budgeted at $7.135M.
According to the report, when GINA visited the site on Thursday, Project Engineer Khiraj Bisesar explained that the project is being done in phases. He said that the Ministry will also install solar power systems, fire prevention systems including water sprinklers and fire extinguishers, and cooling systems. The foundation will also be raised to prevent any possible flooding.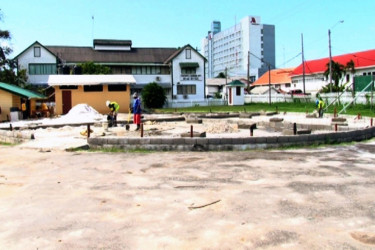 After the works are completed, the Ministry of Indigenous Peoples' Affairs will take over the project.
It is expected that the new structure will be built, using traditional methods, by members of the Wai Wai tribe that is led by former Toshao Colin Andrews. The materials will be supplied by villages of Masakenari and Moraikobai.
While a total of $66.680M was budgeted for the project, GINA stated that the final cost will be determined based on the materials supplied and the cost to bring them from the interior.
The report noted that the Umana Yana was erected for the Non-Aligned Foreign Ministers Conference in Georgetown, Guyana, in August, 1972, as a VIP Lounge and recreation centre. Over the years it was in constant use as an exhibition and conference centre.
The 55-foot high structure was made from thatched allibanna and manicole palm leaves, and wallaba posts, lashed together with mukru, turu and nibbi vines. It was erected by a team of about 60 Wai-Wais.
The original structure was put up in 80 days, but was destroyed by fire in just 15 minutes, on September 9th, 2014.
Around the Web