A City Council worker has been hospitalised since Thursday with a chop to his right hand after he was attacked while trying to act as a mediator during a row between a fellow worker and a member of the public.
Dexter Beckles, 29, of Lot 166 Middle Road, La Penitence, has been admitted to the Georgetown Public Hospital (GPH) since the attack.
He received fifteen stitches to the chop wound on his right hand. He said nerves in two of his fingers were damaged, leaving him with no feeling in them. He also underwent surgery and he said he was informed by the doctors that he has to await more x-rays to determine the scope of his injuries.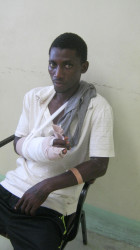 According to Beckles, around 10.30 am, on Thursday, while desilting gutters along High Street, a co-worker was reprimanded by a citizen for making noise in the neighbourhood. He said that an argument ensued between the two, which prompted him to intervene. He said he tried to make peace between the men and even pushed away his co-worker to avoid an altercation.
He said his co-worker then went into a nearby yard, while the resident went back into his yard. At that point, Beckles said that he went to buy juice from a nearby vendor and while he was waiting to be served, the vendor abruptly cautioned him since he recognised an armed man rushing towards him from behind.
"Watch out short man," was all Beckles heard before he felt the blade of a cutlass broadsiding his head. It was the man who had been fighting with his co-worker. As he turned around, he was greeted with another blow, which Beckles said was aimed at his neck. He blocked it with his arm.
He could not recount anything after that as he collapsed unconscious. When he awakened, he was surrounded by relatives in the hospital.
Beckles said no one from the City Council has gone to visit him or even called to check on his condition ever since he was admitted to hospital. Since the holidays are approaching and he is the sole breadwinner of his home, Beckles said it is very depressing that he is unable to work to provide for his wife and three children. His youngest child is six months old.
When contact was made with Town Clerk Royston King last evening, he said that he will speak to the Chief Constable and after he receives a report on the matter he will be able to offer a comment.
Beckles said the suspect was arrested but subsequently escaped from custody at the Brickdam Police Station.
An officer attached to the Police Outpost at the GPH visited him and took a statement but Beckles said he has not heard from the police since then.
Around the Web