A mother is seeking help to find her 13-year-old daughter, who is believed to have run away with a man.
Jankie Seetaram told Stabroek News that she last saw her daughter, Devi, on Wednesday morning, when she accompanied her to her school, the Richard Ishmael Secondary, from their Good Hope, East Coast Demerara home.
She said Devi had no problem at home and everything appeared normal as she was making jokes and playing with her siblings on the same morning.
However, after 12 pm on Wednesday, Devi's teacher called to enquire whether the child was at home since she was not in class, Seetaram recalled.
The girl reportedly registered her name for the morning session and then informed her teacher that she needed to seek medical attention as she would often attend a clinic. She then asked some of her friends to accompany her to the Popeye's outlet at Stabroek, where she told them that it was her last day at school. The girl had packed jeans and a top to change out of her uniform.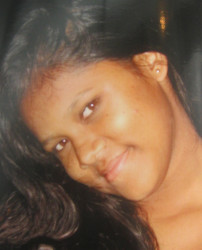 Later, Devi left with a man who appeared to be in his early 30s.
A missing person's report was made to the police, who are currently investigating the girl's disappearance.
Seetaram said all she wants is for her daughter to return home safely.
The mother related that her daughter has never been involved in any trouble and she has always been a good child. She said she is in a state of complete shock about why her daughter might have wanted to leave home.
The mother has since received three text messages from her daughter, who told her not to worry as she was okay.
Seetaram's 14-year-old son, Dhaniram Ramgopaul, went missing last December at a creek opposite Splashmin's on the Soesdyke Linden Highway. More than a week after, his body was found at a Soesdyke creek. A post-mortem examination later revealed that he died from drowning.
Five persons were held in connection with the boy's death but they were later released. The police had said that they ruled out murder after the post-mortem examination result.
Anyone with information about whereabouts of Devi Seetaram is asked to contact her mother at 616-4151 or 220-8898, or the nearest police station.
Around the Web