Four months ago, Radica Thakoor, having exhausted all options, hand delivered a letter to the office of Minister of Public Security Khemraj Ramjattan asking that an inquiry into her daughter's murder be held.
Her daughter,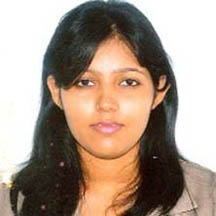 , 20, succumbed after she was run over in the city while chasing after a robber who had stolen her cellphone on September 10, 2010. After she was robbed, Mangar, a Demerara Bank employee, chased the perpetrator, who jumped into a car and ran her down when she tried to stop him from fleeing. The young woman was dragged from the Bedford Methodist Church at Camp Street and North Road to the intersection of Camp and Church streets.
To date, Thakoor has gotten no response and she says that it would appear that the use of her daughter's name during the elections campaign was nothing more than a gimmick to woo support.
While on the campaign trail, now government officials had made mention of Mangar's case as one of the scores of unsolved murders under the PPP/C reign, she said, while recalling that a promise had been made to reopen all the cold cases.
Speaking to Stabroek News yesterday, Thakoor said that with a change in government, she had renewed hopes that she would finally get some answers and put her mind to rest. However, this apparently was not to be as she is still awaiting word from Ramjattan.
Thakoor said that in July she spoke with the minister's secretary and delivered a letter for him in which she pleaded that an inquiry be held. She said that the secretary assured here that the letter would reach the minister's desk.
She said the move was among her last recourses after Police Commissioner Seelall Persaud continuously told her that samples were sent to Brazil for forensic testing and that the results would be received shortly. The samples were sent to a lab in Brazil along with others from several high profile cases. A few months ago, the police received results for some cases.
"I can't understand that now you hearing sample gone to Brazil," she said, before making reference to a previous decision not to send samples to a lab in Barbados. This was a few years ago. A source close to the case had insisted back then that pieces of cloth were supposed to be sent but because it was clear to the eye that the two samples did not match each other a decision was taken not to send them.
"What they gon send? Persaud said they took fabric from Demerara Bank to match with the fabric they found under the car. Suppose it wrong fabric they get? They just lying to me all around," she said, her voice cracking with emotion.
Thakoor said after she was unable to get information on the results from the samples sent to Brazil, she decided to write the minister with the expectation that something would have been done.
The police had held a suspect and impounded his car following the murder but the man was released several days later. A piece of fabric was found beneath the vehicle. Stabroek News was told that the cloth was green but was different in texture when compared to uniform that Mangar was wearing at the time of the accident. This newspaper had been told too that all the police had was the woman's jacket and despite pleas for them to collect the other pieces of clothing from the hospital, this was never done. "This is more than heart breaking. It is more than five years, every night you gotta wonder what really took place on that road," Thakoor said.
Five years and counting
Thakoor said if no one came forward after the young woman's death then, no different can be expected now. As a result, she said it is crucial for police to aggressively investigate.
She said the new government has an opportunity to correct the failures of the last administration and make some breakthrough in this case.
"It is up to them. The past government was lackadaisical in matters where people children are concerned. They didn't value people children and their lives," she stressed.
"I get lil hope with this new government but if I just see some acknowledgement to my letter I would say they serious," she added.
Police had focused primarily on the forensic aspect of the investigation but Thakoor believes there were other ways and means to solve the crime. She noted that at the time, the place was not dark and so there would have been multiple persons who would have been witnesses.
Although noting that persons would have been afraid to come forward, she said that if the police had pushed on, "it would have been solved by now."
"You gotta ask that question a thousand times: Why the police ain't doing nothing…? It not only about blood samples and cloth, why the police don't want to solve the matter? Why? Because is a big man child and we ain't know no big ones?" she questioned, while noting that her daughter was a young woman who was just trying to work and build a future for herself.
Thakoor said that while she and her family continue to mourn, a murderer is walking free. "That man who press that gas willfully murder her," she said.
Despite the challenges she has faced in getting justice for her daughter, Thakoor remains optimistic that everyth
According to Thakoor, her final recourse is to pen a letter to President David Granger but she wants to give Ramjattan "lil mo time" to respond to her.
Around the Web