Former President Donald Ramotar yesterday denied promising Indian company Fedders Lloyd the contract to build the specialty hospital and said he never had a formal meeting with a representative of the firm.
"I met this man in the hotel lobby when I was in India of January this year…I never promised him anything," Ramotar told Stabroek News referring to Fedders Lloyd representative Ajay Jha.
Jha told Stabroek News that Ramotar had told him that given the fact that the original contractor Surendra Engineering had defaulted on their contract and their services were terminated, his company would get the contract.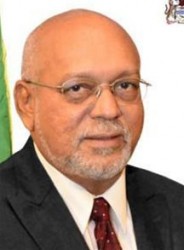 Jha has said that he met Ramotar in India and the then President had told him that they regretted not giving the contract to Fedders Lloyd. He has said that the PPP/C government was negotiating with his company to complete the project and in December 2014, Ramotar directed then Attorney-General Anil Nandlall to deal with his company. "I met him many times and he always confirmed that he will hand this project to us," Jha said.
Speaking with Stabroek News yesterday, Ramotar explained that in January of this year when he was in India on an official visit, Jha, who he said seemed to have been camping out in his hotel's lobby, would try to have an audience with him every time he came into the hotel's foyer. Ramotar said out of courtesy, he met Jha as he was walking for a brief period and it was in the hotel's lobby that the man informed him that he represented Fedders Lloyd.
According to Ramotar, his interaction with Jha was so insignificant and short that he can barely recall much of the conversation.
However, he said, he knows for certain that he could not and would not have promised anyone anything under such circumstances but may have said that if the company was interested, they could retender for the contract.
"I never promised him as I didn't have any big, long conversation with him. I felt awkward every time I came down, the man was there trying to get my attention. Seems he was camped out at the hotel or something. My memory is vague but maybe I told him he can come back in and bid," Ramotar said.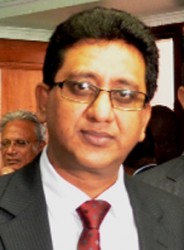 "I didn't promise him anything that I know for sure…We never had any formal meeting with him," the former president stressed.
Asked about the photographs Jha used to justify his meeting with him, Ramotar said the public should scrutinize them and will see that it was in the hotel's lobby.
Nandlall also denied Jha's claims saying that the man had been following other ministers around. "This gentleman, whoever he is, has been following several government ministers around. He turned up uninvited at President Ramotar's hotel in India," he told Stabroek News.
"He came to see me several times uninvited. He is industrious, he got my cell number and even called. I met with him out of courtesy and explained to him that Fedders Lloyd was disqualified and that it would be impermissible for Fedders Lloyd to be handed a contract. I said if they were interested in the project, then he must await when we go back to bid and he must submit a tender. I told him that may not happen until after the elections," Nandall asserted.
"Knowing the provisions of the Procurement Act and knowing the conditions under which Exim bank would be financing this project, those conditions stipulate that it can only be given to a bidder that participated in a public procurement process…why would I even think of promising him," he further questioned.
According to Nandlall, Jha's argument does not stand firm as if he says that government promised him the contract in January, then the company should have been given it before the May 11 general elections as he believes it would have helped the PPP score electoral points.
"He can't have a document coming from the government, he have his own that he was sending but he can never get one from the Government of Guyana promising him the contract…From January to May what prevented us?…Knowing full well that we are going to the elections and knowing fully well that if we could show the electorate that the hospital was under construction, it would have been a big political plus why didn't we? The truth of the matter (is) that no such promise was made to this gentlemen," Nandlall declared.
"At a meeting of the (then) Indian High Commissioner and a representative of the Indian government, the hospital project came up for discussion. It was agreed that the legal proper thing to do, in accordance with the terms of the line of credit, was that the hospital project, that it will have to go back to tender. The issue of handpicking another contractor never arose," Nandlall added.
The former Attorney General said that not only is he in disbelief at Jha's allegations but he rejects it outright. "I reject absolutely this story that he is peddling that someone promised him (the) contract. It is unlawful for me to have," he said.
The APNU+AFC government has since inked a Memorandum of Understanding with Fedders Lloyd for the completion of the Specialty Hospital, but is under pressure to explain why it did not put the project out for retender. Various reasons have been given for the selection of Fedders Lloyd including that the company was the second best bidder. However, the evaluation report obtained by Stabroek News shows that company was disqualified from the process.
Around the Web