When the Child Care and Protection Agency (CC&PA) found David,* he had already been taking care of his two younger sisters for close to two weeks after their mother had walked out on them.
He was only seven.
David, now eight years old, recently told Stabroek News that he found it easy taking care of his sisters and he was scared when representatives from the agency intervened since he did not know what was going on.
One year since the intervention of the CC&PA, David and his sisters, now ages three and seven years, have been adopted by two different families. David, who still gets the opportunity to see the sister who is no longer living with him, said he is very happy with his new parents. With his growing interest in learning, he hopes to one day become a doctor.
Ten-year-old Destiny* has been part of the foster care system from the tender age of five years. She recalled living in the North West District with her mother and her family when she was taken to the CC&PA. Her mother had sought the assistance of the agency after realising that the girl had been raped.
Like David, Destiny explained that she was scared when she was first taken to CC&PA, since she thought they were going to take her away from her mother and put her in an orphanage.
However, through the foster care programme, Destiny was successfully placed with her grandmother, where she remains up to this day. She said she is comfortable and happy living with her grandmother and another sibling of hers. She too aspires to be a doctor someday as she believes she takes good care of her grandmother when the need arises.
Destiny is one of the 200 children that the CC&PA currently has in its foster care programme, which is now in its fifth year. However, there remains an estimated 700 children who are eligible for the programme and an estimated 111 foster parents.
'Children don't belong in children's homes'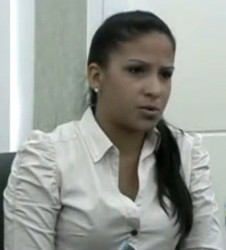 According to Colleen Khan, Administrative Manager of the Foster Care Unit in the CC&PA, foster care acts as an alternative care option for a child who has to be taken into the care of the agency.
"Children don't belong in children's homes, it's not the best place for them; they belong with family and if they cannot be with their biological family, foster care is the best for them to at least grow up with a surrogate family," Khan stated.
November is designated Foster Care Month and the agency uses it to raises awareness about the foster care programme but Khan said the CC&PA also works tirelessly all year round to raise awareness about the programme, including through documentaries and ads in the media. Still, she noted that a majority of foster parents hear about the programme through "word of mouth."
Khan explained that the agency takes great care in finding suitable placements for these children and potential foster parents are subjected to a comprehensive screening process.
Prospective foster parents are subjected to background checks on themselves and other occupants of their home; a home assessment where an investigation of the community and home environment is done to ensure that accommodation and resources are in place to take care of the child; and a medical examination to ensure they are physically capable of taking care of the child.
Khan added that once the criteria is met, the CC&PA would work to train the prospective foster parents to deal with different forms of abuse that the children may have been subjected to prior to being in state care, with the aim of creating a healing environment for them. They are also trained to deal with instances where attachment becomes an issue.
She noted that foster care can involve both short-term and long-term placements, with a short-term placement lasting three months and long-term lasting six months. She stated that they also have measures in place to facilitate emergency placement of a child.
During these periods, the agency works with the biological parents to put systems in place to help them get their children back. "That's the ultimate goal of foster care, we place them with a family that can take care of them while their biological parents resolve whatever issues would have warranted the removal of the child in the first place," Khan stated.
She further explained that the short placement periods were designed as an attempt to curb a foster child becoming too attached to its foster parents and vice versa. "It is their natural instinct to become attached and we always have to make decisions in the best interest of the child. There are cases where fostering has gone on for a long time but we have to make a decision as it relates to the child," she said.
Sometimes, Khan noted, reintegration is not always the best option because of the attachment. "We do not want to remove that child from a stable home environment to one of uncertainty. So, that's some of the challenges we deal with on a daily basis when it comes to the child," she added.
Although foster care does not always lead to adoption, there have been cases where foster parents have adopted their foster children. This step, Khan said, would occur particularly if the situation from which the child was removed from has not improved or if the agency is unable to locate the biological family of the child as in David's case. However, the agency promotes the adoption of the child in favour of a biological family member, which is also considered during the placement of children.
But for Khan, a success story is one where a child has been placed with a family that provides a suitable living environment but is then reintegrated into his/her biological family after the CC&PA has been successful in working with the family to change the situation that would have warranted the child's removal.
Khan recalled one such instance where the CC&PA intervened in a situation where a child was living with a drug-addicted mother. She explained that after taking the child into state care, the CC&PA worked with the child's mother as she sought treatment at a rehabilitation centre, during which time the agency encouraged visits between the two. Khan proudly revealed that the child has since been returned to her biological mother while the agency continues to monitor the case. She also revealed that both the child and her mother have remained in contact with the foster parent.
'An experience of a lifetime'
According to Khan, the agency has seen more persons getting interested in becoming foster parents but it still remains a relatively new concept to Guyana. She said people need to readapt the old adage that "it takes a village to raise a child" if the number of children who are living in children's homes in Guyana is to be addressed.
As a result, Khan is encouraging members of the public to consider the difference they would be making in the lives of those vulnerable children by becoming foster parents. And although fostering is not for everybody, she emphasised that it should not be about the applicant but about the children. "It's a selfless act that people do out of the kindness of the heart," Khan stated.
Dawn,* who became a foster parent four years ago, shared her journey. She explained that initially she did not know much about the programme and only visited the CC&PA after being encouraged to do so by a fellow church member.
"I went in and saw this little baby and I was like, 'Wow, she's not supposed to be here,'" Dawn stated. It was at that moment that she realised she wanted to become a foster parent. Having completed the necessary steps to become a foster parent, Dawn was able to take the baby home shortly after.
She explained that she took the little girl home as a Christmas gift to her husband, who was both surprised and happy. Her foster child was only two days old when Dawn had set her eyes on the little girl. Four years have passed since then and Dawn is now preparing to let the girl go as she has been adopted by her grandmother, who lives overseas.
Dawn stated that she loves the child as if she were her very own. She noted with the grandmother in the picture, she now feels as though she has gained a grandmother as well.
She said after the girl leaves, she intends to foster another child. "If I had a big home I would've taken as much as I could, but I can't. Being a foster parent is an experience of a lifetime and, for me, I just want to give as much love as I can before I depart from this world," Dawn said.
Similarly, Steve* has found joy in being a parent to his three foster sons. He said he does it because of his love for children. Although they have three biological children of their own, Steve and his wife decided to take in his wife's cousins. The boys, aged 18, 16 and seven, have been in their care since their mother passed away more than five years ago.
Khan said the CC&PA is working on eradicating the misconception that younger children are easier to foster as opposed to the older ones. She explained that this notion is derived from the belief by parents that the younger children would take to their values easier than older ones. However, she noted that every child, whether young or old, is in need of a good home.
Fostering can commence from the birth of a child to the age of 18. However, Khan explained that some who have been in foster care prior to turning 18 have remained in the system past that age as they pursue formal education or skills training.
A foster parent receives a monthly stipend of $18,000 for each child. Khan noted that this has been the amount allocated since the programme began. However, with cost of living having gone up, the agency will seek to engage the new administration for an increase in the coming year.
Anyone who is interested in becoming a foster parent can visit the offices of the Child Care and Protection Agency at Broad and Charles streets, Charlestown, for more information.
*Names have been changed to protect the identity of both child and foster parent.
Around the Web