Permanent Secretary (PS) of the Ministry of Legal Affairs and the Attorney General Chambers Indira Anandjit has been sent on 52 days leave after millions of dollars worth of law books and computer parts were discovered missing.
This is according to Attorney General Basil Williams who yesterday told the media that Melissa Tucker is now performing the PS duties. Anandjit has been on leave for the last several weeks.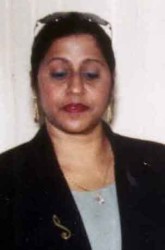 Williams, reading from a prepared statement said that Anandjit was sent on leave to "facilitate the ongoing audit," into the disappearance of the law books and computer parts. The disappearance occurred between 2013 and now when Anandjit had been given approval for the items to be purchased.
He said the auditors were still working and he was therefore unable to give an exact cost of the items which cannot be accounted for. However, among the legal material missing are 17 law books of the Commonwealth valued in excess of $2.5 million and computer parts costing almost that same amount. "But as I said the audit is ongoing…The PS authorized those purchases and the books cannot be found in the ministry nor the spares and so the investigations are ongoing," he told reporters.
He said that while no other irregularities at the ministry has been brought to his attention, he has spoken to the Auditor General in terms of a timeframe, "but you see the work is ongoing and he has authorized me to make this release."
Around the Web