The Georgetown Chamber of Commerce and Industry on Thursday night held its 126th Dinner and Awards Presentation at the Pegasus Hotel to highlight the work done being done in the business sector. A number of businesses were honoured with awards.
The Business of the Year award (small to medium) went to Umami Inc in recognition of the company's demonstration of good overall performance in the areas of financial growth and customer satisfaction. Umami makes sauces and condiments among other offerings.
Business of the year award (large) was presented to Guyana Goldfields Inc in recognition of its demonstration of good overall performance in the areas of financial growth, customer satisfaction, internal processes improvements, employee relations, development and corporate citizenship. The Canadian gold mining firm began producing gold earlier this year from its Region Seven mine.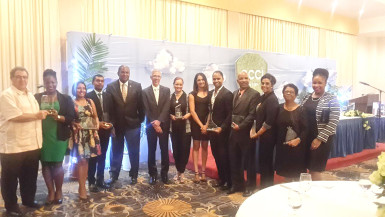 Doris Lewis of John Lewis Styles received the Lifetime Achievement Award for her contributions to the development of the business environment in Guyana which present opportunities for learning in future generations.
Scotiabank was presented with the Corporate Citizenship Award in recognition of the company's demonstration of ethical leadership, good corporate governance and community investment.
The award for innovation went to Eureka Laboratories for breakthrough achievements in technology, processes, marketing campaigns and development that have impacted positively on the quality of products, services, customer satisfaction, process efficiencies and employee satisfaction.
The President's Award was bestowed on the Qualfon Call Centre for effectively facilitating the work of the business community by exhibiting the highest standard of service.
The Centre earlier this year opened a US$4 million complex at Providence.
Managing Director of Gravity Lounge Clairmont Cummings won the Young Business Executive Award for his demonstration of ambition, skill, vision and tangible business success.
Stabroek News won the Media Award for its coverage of the work of the chamber and business community.
Around the Web