Almost two months after the discovery of a quantity of grenades and live ammunition near the Lamaha Canal on Sheriff Street, investigators are still trying to trace their origin.
Acting Crime Chief, Assistant Commissioner David Ramnarine yesterday told Stabroek News that investigations are still ongoing and international help has been sought.
Ramnarine noted that in addition to help from the Guyana Defence Force (GDF), the police force sought aid from international law enforcement agencies. "We made contact with a few to obtain any assistance… so that we can trace the origin of the grenades," he said. "So far, we have got one reply and we are investigating as the matter is still being addressed," he added.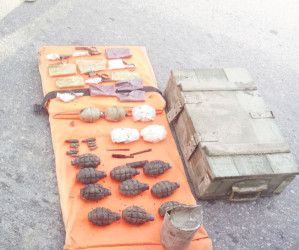 Stabroek News was previously told that a city constable spotted the suspicious box around 2:30 pm on October 10th covered in mud.
Crime Chief Wendell Blanhum had said that detectives and ranks from the force's ballistics section unearthed 11 fragmentation grenades, four concussion grenades, thirteen fuses, three 7.62 rounds for an AK-47, and seven 9mm rounds in the small green box, that was found near the Lamaha Canal.
Previous reports indicated that it was suspected that the box was dumped in the canal and was scooped up by an excavator while it was being dug and deposited at the side of the canal with mud and other debris.
The GDF had also been assisting the police with investigations and Chief of Staff of the GDF Mark Phillips had told this newspaper that the inventory was checked and no grenades were missing.
Around the Web