Three Lindeners were on Monday charged with circulating nude photos of a woman around the Mackenzie car park.
It is alleged that Jason Arthur, 34, of Mackenzie, Quacy Rodney, 34, of Mackenzie and Sylvan Dazzel, 29, of Retrieve, on December 3, at the Mackenzie car park, at Linden, knowingly and without lawful justification or excuse, exposed to the public view nude photographs of a woman, with intent to corrupt the morals of the public.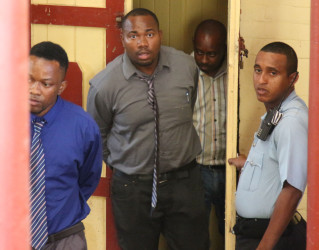 Arthur, a computer specialist, Rodney, a truck driver and Dazzel, a taxi driver, pleaded not guilty to the charge when they were arraigned in a city court.
The prosecutor, who had no objections to bail, said the woman had taken her computer to one of the defendants to be fixed.
However, according to their lawyers, someone with whom the woman had a relationship had taken a computer to be repaired by one of the defendants over a year ago.
It was claimed that on December 4 the men were detained by the police and were placed on $20,000 station bail.
Bail was set at $20,000 for each man by Chief Magistrate Ann McLennan, who transferred the case to the Linden Magistrate's Court, where it is to be called on December 22 for statements.
Around the Web