President David Granger on Saturday told a gathering at the National Association of the Adventist Men's Ministry 2015 Men's Conference, that women must be respected, loved and revered, and Christian men must get away from the notion that women must be submissive or subordinate.
Identifying respect for women as one pillar of gender relations, a release from the Ministry of the Presidency reported that the President said another equally important pillar is the ability to make responsible choices. "Sometimes, depending on our upbringing, we make decisions that are conditioned by non-rational motives… these choices have to be responsible Christian choices. Go back to the Bible and learn from the life of Christ".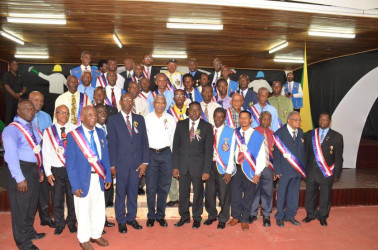 The President said that people fail to realise that their choices have consequences that can be to their detriment.  "We have to make a choice as fathers.
Listen to the advice that you were given to make sure that your child goes to school, stays in school and graduates", he said.
The third pillar that is necessary in today's world is "resolution", Granger said, noting that in today's challenging society, it is easy to walk away from this. "You must have responsibility for every child you bring into this world, and the churches must insist, society must insist, we must abolish forever the expression 'single parent household'… The love of a mother and the lessons of a father are critical to a child's wellbeing", he said.
"There are many things a child has to learn from a father and if that father is absent, the child may very well grow up without those lessons; The lessons of responsibility, the lessons of discipline, the lessons of orderliness", Granger said, according to the release.
According to the press release, the three-day conference which commenced on Friday last, was held in the auditorium of the Sophia Exhibition Centre and featured presentations on several issues inclusive of: men's health, skill harnessing, empowerment and the importance of responsibility.
Among the speakers at the event was Dr Leon C Wilson, Provost and Vice President for Academic Affairs of the Alabama State University.
Addressing the topic of religious extremism in the wake of the recent terror attacks in Paris, France and San Bernadino, California, Granger said that the church needed to provide guidance.
"We have to ensure that we as men, as fathers, provide the type of guidance, which will prevent them from taking the path toward extremism," he said.
The conference also honoured its long serving members not only for services rendered to the association but also to their respective communities and one such recipient was George Union in recognition of his more than 60 years of humanitarian service both within and without the Seventh Day Adventist circle.
Around the Web