Balram Singh was yesterday sentenced to 80 years in jail after a jury found him guilty of murdering taxi driver Bhomeshwar Sukhdeo, whose burnt remains had been dumped on the Mocha Access Road in January 2010.
"Your Honour, with all due respect, I don't have anything to say at this point," an initially expressionless Singh said, when asked whether he had anything to say as to why the court should not pass sentence on him. "I din murder nobody," the convict added, before retiring to his seat in the prisoner's dock; shaking his head in disbelief.
The indictment against Singh was that between January 19 and 27, 2010, he murdered Sukhdeo.
In a plea of mitigation, defence attorney Jermaine Jervis begged Justice Navindra Singh to be lenient with his client in imposing sentence.
Jervis advanced that his client, who is 45 years old, has no antecedents and has exhibited exemplary behaviour for the past five years he has been incarcerated.
He also asked the court to consider Singh's two sons who would not have the presence of their father as they go through life.
Prosecutor Narissa Leander in her address to the court, however, asked the judge to consider that Sukhdeo's children and family will never again see him. "His children have to go through life without their father," she said. "Mr Singh's children and family can still get to see him."
The state attorney said that Sukhdeo's family had suffered and was still suffering because of his death. She asked Justice Singh to take those, and all the other circumstances of the case into consideration in handing down sentence.
Pleading remorse for his client, Jervis declared, "He's truly sorry Sir."
Counsel's declaration however prompted Justice Singh to enquire whether his client was indeed sorry; noting that the convict did not himself say so.
"I believe he's truly sorry Sir," Jervis responded.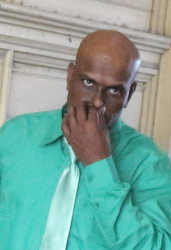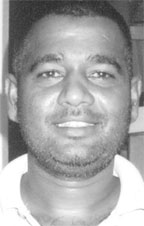 "Mr Singh, you're not telling me anything, this is an extremely heinous crime—like I don't even know what to say about how I feel," Justice Singh told the convict. "You shoot this man and then burn him up and dumped him," the trial judge continued.
Justice Singh then proceeded to sentence which he started at a base of 60 years. He then added 10 years because a robbery was committed during the commission of the murder and an additional 10 years because the crime was premediated.
The judge noted that the convict's story of having no knowledge of the murder was implausible and further did not believe his claims that the police had made up any story against him.
After anxiously awaiting the return of the verdict for more than four hours, families of both the deceased and convict were moved to tears: tears of joy from Sukhdeo's family while Singh's family cried sorrowfully.
One of Singh's relatives, who could not contain himself, released a loud sound of anguish as Justice Singh added up the years against the convict and imposed the 80-year total upon him.
A visibly depressed Singh looked around the packed courtroom as he slowly walked out in shackles and surrounded by police guards. Some of his relatives waved him goodbye as he was being escorted from the court.
After the hearing, Sukhdeo's family expressed satisfaction with the jury's verdict; declaring that "justice has been served." His mother-in-law related how relieved the family was.
She noted that while the outcome of the case "cannot bring him back," it offers some amount of closure. "We can finally put this behind us and move on," she said.
"We have been praying for this day," another relative added.
As they fondly reminisced on the man's life, they noted that he was a "good father, very loving, and kind-hearted."
Four hours
The 12-member mixed jury returned a unanimous guilty verdict after about four hours of deliberations, during which they sought additional directions from the judge once.
The trial was heard at the High Court in Georgetown; 15 state witnesses were called to the stand.
According to a caution statement, which was admitted into evidence and read to the court, Singh confessed that he and an associate, Travis David, had murdered Sukhdeo.
The court had heard from the statement that David shot Singh to the left side of his neck with a .38 revolver and that they later dumped the body on the Mocha access road.
According to the statement, Singh said that on January 19, 2010, he and David travelled to Georgetown from Agricola and while he waited in the vicinity of Silvie's Variety Store, David left and later returned in a white wagon driven by Sukhdeo.
The court heard that Singh got into the back seat of the vehicle, while David sat in the front passenger seat and directed Sukhdeo to drive to the Agricola Sideline Dam.
After arriving there, Singh said, David instructed Sukhdeo to stop the vehicle and when he complied, the statement said, David pulled out a .38 revolver from a haversack he was carrying and shot him.
The court was further told that David then used a jersey "to stop the blood."
According to the statement, Singh said they placed Sukhdeo in the back seat of the car and he went into the front passenger seat while David drove the vehicle to Eccles, where they placed the body in the bush.
The court heard that David then drove Sukhdeo's vehicle to Singh's yard and left and about 6 pm, he returned and picked up Singh and the vehicle, after which they retrieved the body from Eccles, took it to Mocha access road and dumped it.
Detective Sergeant Nigel Stephens had testified that after Singh detailed to him how Sukhdeo had met his end, he [Singh] added, "Wah eva happen is me and Travis do it. I sorry fuh wah eva happen."
Stephens had testified about holding a confrontation with Singh, during which he blurted out, "Is me and Travis David kill the driver of the car and sell it to Bharrat."
In his testimony, David who said that he knows Singh with whom he worked as a conductor and who lives in the same village of Agricola; emphasised that he didn't kill Singh or had anything to do with the crime.
Opting to lead his defence in unsworn testimony from the prisoner's dock, Singh denied killing Sukhdeo or having anything to do with his death.
He had however said, "I'm sorry for the people who family died but to be honest with this court hay, me ain't kill nobody, me ain't know 'bout no murder."
Singh, who had said that he can neither read nor write, had told the court that he signed a document prepared by the police after they told him that he would go home once he signed it.
His story was that Stephens had a page quarter-filled with writing, which he was told to sign at the bottom. Singh then spoke of being asked to affix his signature below two additional blank pages, which he did.
The convict had testified too that he had been cuffed and gun-butted by investigators and threatened to be thrown overboard because he said he knew nothing about the murder.
The police witnesses in their testimonies had however all vehemently denied ever using any form of force or threat towards Singh or inducement for him to give the statement which he did. The lawmen maintained that Singh had freely and voluntarily given the statement.
In her opening address, Leander had said that Sukhdeo, who operated his car outside Guyana Stores Limited, went missing on January 19, 2010 and was found eight days later.
Around the Web