Minister of Governance, with responsibility for Natural Resources and the Environment, Raphael Trotman, yesterday, signed a US$300,000 grant with the Green Climate Fund (GCF) on the side lines of the United Nations Frame-work Convention on Climate Change Conference (UNFCCC) in Paris, France.
A release yesterday from the Ministry of the Presidency said that Trotman and Ousseynou Nakoulima, Director of Country Programming for the GCF, signed the agreement in the presence of Minister of Finance, Winston Jordan; Dr. Kenrick Leslie, Executive Director of the Caribbean Community Climate Change Centre; and other dignitaries. The money is to be spent over the next year, the release said.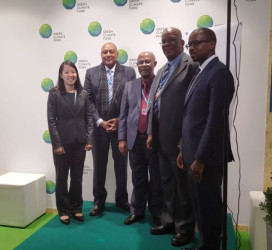 The agreement is intended to support Guyana in strengthening the institutional capacity of its National Designated Authority (NDA) to implement its responsibilities by preparing climate-related country programmes through a multi-stakeholder process.
The release said that at the end of the project year, it is expected that capacity would be boosted to facilitate effective consultation and communication on climate-related issues and accessing the GCF.
The Caribbean Community Climate Change Centre will act as the Delivery Partner for this project.
The release said that Guyana also engaged the Coalition of Rainforest Nations (CfRN) to advance the proposal for the establishment of a new Inter-national Council of Rain-forest Nations. Trotman, accompanied by Guyana's Chief Negotiator, Andrew Bishop, held discussions with the Minster of Environment of Panama, Mirei Endara, who chairs the CfRN.
The proposed Council will seek to facilitate cooperation among like-minded rainforest countries, particularly in the execution of REDD Plus initiatives.
Trotman expressed support for the initiative and indicated Guyana's interest in partnering with the entity.
Around the Web