A dramatic early morning shootout yesterday in South Ruimveldt Park ended with two of four bandits dead, while the other two escaped; they had beaten and robbed a woman in her home and tried to break into another house two corners away.
The two men who were identified as 21-year-old Edgar Blackman and Sherwin 'Tupac' James, 23, of Tucville, were taken to the Georgetown Public Hospital where they were pronounced dead on arrival.
The ordeal that spanned about an hour started at Arlene McLean's Pioneer Lane, South Ruimveldt Park house where four men broke in and robbed her and her sister.
"I got up at four this morning, which I don't usually do, to cook and before I come out I heard something fall. When I went outside, there was an ornament on the ground," the 47-year-old woman recalled to Stabroek News yesterday. Still clearly in shock and fear, McLean explained that she picked up the ornament and placed it back in its correct place then peeked through the blind. When she did not see anything, she proceeded to the kitchen. "After I reach back in the kitchen, again I hear the same noise outside and I go back and I peep again at the blind and that's when I see two men trying to push the glass door open," she said, adding that while fright rushed through her body, her instinct was to push back at the door in an attempt to keep the bandits from entering.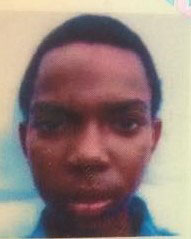 "I don't know where I get the strength from or what possessed me but I start hollering like a mad woman and pushing back the door as hard as I can," she said. While she pushed as hard as she could, her valiant effort fell short as the two men eventually overpowered her and pushed down the glass door, which crashed into a nearby table.
The two men, who had their faces covered with a bandana and a stocking, rushed into the living room, armed with guns and started to demand cash.
"My 79-year-old father came out after all the commotion but I told him to sit and not do anything and they ignored him," she said.
McLean explained that she went into the room and gave them all the money she had, but they started to demand more and even punched her several times to her face when she said she didn't have anymore. "They rush to the backdoor and start kicking it in and I ask them why they kicking in the door when they already inside and so I opened the door for them," she said; little did she know that two others were waiting outside to enter.
The second duo demanded more cash and was given some more by McLean's sister along with a phone. "After they collected the phone, they ran through the back door, jumped over the fence and escaped down the street," she said, pointing out that the men ran towards the direction where they would eventually clash with the police.
Red Hat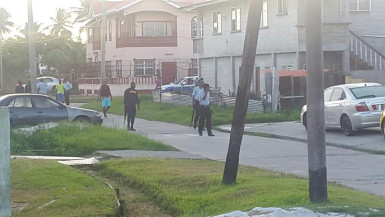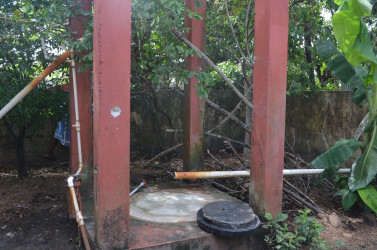 According to Paul Morrison, who lives at 1615 Resilience Place, where the shootout occurred, he was awakened by footsteps on his roof. He said he got up and checked his western window where he saw a man wearing a red hat pointing a gun in the air. "He demanded [that I] open the door and come out but I rush back and tell my three children to lay on the ground," Morrison said. He said his eldest son had heard the commotion and he took off the lights and proceeded to hide. "After I keep peeping to see if he still there I notice another one at the side and then all of a sudden, I started hearing gunshots," he said, explaining that rapid gunfire that he later learned was from both the bandits and police was exchanged over a period of about three minutes and then abruptly subsided. He said after the "war-zone like" atmosphere died down he stepped outside after he saw police officers swarming the yard. "They start seh that they still in the yard and we went to the back and that's when they noticed the red hat on the ground next to the tank and the tank cover was off too," he said, adding that after the officers saw that they sent him back and surrounded the tank. He said he heard another exchange of gunfire and when he peeped out the window he saw water flowing through several bullet holes in the tank.
While a police press release stated that the contrary to a report on Demerara Waves, the two men were not hiding inside the tank, but behind it and had continued to discharge rounds at the officers, Morrison stated that they were inside the tank. "… The police tell the one on the roof top to come down and he jump down from the fence and me ain't no how, but he get away. So the police ask me for a cutlass after they shoot up the tank and they cut the tank and pull out the bodies," Morrison said.
While Morrison only saw three bandits, the police stated that two men escaped and an unlicensed 9 mm Luger pistol with 3 matching rounds and an unlicensed .38 revolver with 4 matching rounds and 2 spent shells were recovered.
While several homes around the neigbourhood have been broken into recently, Morrison said he is currently in a dispute with someone over land in Kitty and had noticed that he was followed from Kitty to his home by a rider on a CG motorcycle. He said he had also received threats from the person he is currently in dispute with.
An eyewitness who was walking on the road around the same time stated that he noticed a "short guy who was half naked" running out of National Avenue with his shirt in his hand and several police ranks running behind him. The man managed to run into the nearby market and was able to dodge the police.
Diane Blackman, Edgar's mother, told Stabroek News that while she knew James as he had frequently visited Edgar, she was not aware that the two men owned weapons. "I saw him yesterday when I went to the hospital to visit his sister and that was the last time," she said. She heard from Edgar's "good friend" that he was in a "shoot up" and after she called his phones several times and received no answer she proceeded to check the hospital where her worst fear was confirmed.
"They ain't had no right to shoot he, because he was in the black tank and he ain't shoot at them. How he in a tank and shoot them?" Edgar's brother questioned, stating that the last he saw his brother was on Tuesday at 6 pm when he left the house to visit his girlfriend.
Contracted
Blackman and James were said to be part of a team contracted by the City Council to clean the drains around the city.
When Stabroek News contacted James's relatives, they said that they had nothing to say.
Divisional Commander Clifton Hicken in an invited comment told Stabroek News that yesterday's response was evidence that the police's anti-crime strategy is working.
He noted that given the Christmas season police have increased patrols and these along with Operation Dragnet, have allowed the force to zone the patrols to most areas in Georgetown. Hicken told Stabroek News that the aim was to quicken the response time to reports of criminal activity. Quick response, he stressed, is an important element of crime fighting.
He informed that there are monthly reports on response time and noted that all response times are recorded with the aim of making improvements.
"This morning's response is testimony that our strategy is working. We got the call at 4.30 and within 5 to 10 minutes, ranks were already there on the ground," he said adding that on arrival they came under fire and called for reinforcements.
He said that police's good response will help to boost police/community relations.
Hicken said that during the exchange police ranks were able to keep curious onlookers in safe zones and that they were satisfied with the ranks' overall conduct.
He said that two of the gunmen are still at large and he expressed confidence that with the help of the public the police will be able to at least identify them within the next 24 hours.
He said that when the ranks arrived on the scene, they found the men on the roof of Morrison's house attempting to gain entry. He said that was the information he received. The yard they were killed in, he said, belonged to the man who lived there with family members.
He advised members of the public that there is increased patrolling and while urging them to take precautions, he stressed that the police are there to give support.
Around the Web