One day before a court case filed against the Aracari Resort by the Department of Labour was to be heard, the owner made a decision to pay a security guard who was wrongfully dismissed and was owed for working with no overtime and no leave days.
The former guard, Oodhow Katwaru, 76, yesterday collected a cheque for $68,400 from the Labour Department's Brickdam office.
The charges brought against the resort owner, Sasenarain Shewnarain, were for failure to pay sum in lieu of termination, failure to produce records requested, failure to grant leave with pay, failure to give notice of termination and failure to pay overtime.
Junior Social Protection Minister Simona Broomes had told Stabroek News two weeks ago that the importance in the case was not the charges but the level of exploitation that the worker faced.
Broomes said that acting on the man's complaint, the employer was contacted but he sent a representative instead to a scheduled meeting to state that Katwaru had been disrespectful to him. It was later revealed that the man was deemed disrespectful owing to his refusal to chase dogs out of the resort, located Versailles, West Bank Demerara, before the start of his shift.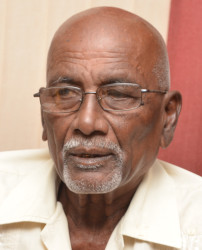 Katwaru explained that he started to work at the resort on October 3rd last year as a security guard and at the time he was paid $202 per hour along with time and a half or double pay for holidays, in keeping with the labour laws. Also included in the arrangement was that anything over 40 hours per week would attract overtime, which would be time and a half.
According to Katwaru, just before Christmas the hourly rate was increased to $255 per hour but with no overtime payment. "…No overtime and extra pay on holidays," he said, while adding that sometimes he would work beyond the eight hours.
On June 30th, this year, he recalled that he was rotated to work the 9 pm to 5 am shift. He reported for duty at 8.25 pm. "As soon as I arrive, the telephone in the guard hut rang and I answered.
The boss – the owner for the place – he spoke to me and say, 'They got some dogs in the compound; go and chase it out,'" he recalled, while adding that he indicated that he had just arrived and that that directive should be given to the guard on duty.
Katwaru was adamant that he spoke in a normal tone and was not disrespectful in any way.
Asked whether chasing the dogs was a part of his assigned duties, he responded in the negative but added that whenever he would see the dogs he would chase them out.
Katwaru told this newspaper that on the July 1st, he was off duty when his supervisor called and queried what had happened between him and the boss. Though he denied that he refused to obey his employer's order, he was informed that he would be suspended for one week beginning the following day.
He said that he later went to see his employer but his request was denied.
Katwaru said he was told that he should accept his suspension and return to work on July 9th. On July 8th, he said, he returned to the resort to verify that he was on the 5 am to 1 pm shift but was told by the supervisor that his services were no longer required. "I was surprised at his actions. I have great respect for him. I was never absent and I always on time for my job whether rain or sun and I always obedient," he said.
He said he then went home and collected the two jerseys and a shirt which the company had given him for uniforms. When he returned to the resort to drop off the items, he met the general manager, whom, he said, refused to give him a hearing.
Recognising that he had been wrongly dismissed, Katwaru said that he went and lodged a complaint with the Labour Department and made claims for payment for overtime, wrongful dismissal and for all the holidays he had worked.
The matter was called several times but a resort representative failed to show up. At one hearing where a representative finally turned up, the company claimed that he had walked of the job. He said that he strongly denied this and insisted that he was fired.
Katwaru said after the minister took an interest in the case, the manager agreed to pay him overtime and for the holidays he had worked. "But where I claim wrongful dismissal she said she is not going to pay for that," he said.
Broomes had told Stabroek News that a labour officer had gone to the resort and met with Shewnarain, who made it clear that he would not pay Katwaru any money for his immediate termination of service and he would go before the court. It was as a result of this, she said, that the department filed charges.
Shewnarain subsequently decided to settle.
"I want our president to know that Miss Broomes is not a racial woman. I want the entire nation to know and that she performs her duties free and fair. She performs in a professional manner and I must say congratulations to her," Katwaru told Stabroek News after the settlement.
Meanwhile, Katwaru has since managed to land another security guard job at another location. When asked why he still works at his age, he said he would be bored if he just stayed at home.
Around the Web