Following his release from hospital, Vishnu Narine, who slit his own throat after the fatal stabbing of his wife, was yesterday charged with murder.
Narine, 28, of 164 Onderneeming Sand Pit, Essequibo Coast, was not required to plead to the murder charge when he was arraigned before Magistrate Sunil Scarce at the Suddie Magistrate's Court.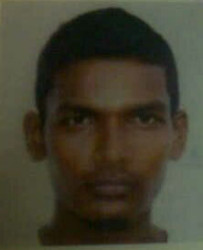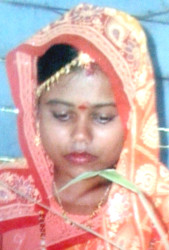 It is alleged that on Novem-ber 28th, at Paradise, he murdered Malanie Narine at their home.
The man had being hospitalised under guard at the Suddie Public Hospital after slitting his throat.
According to the police's case, the man stabbed the woman several times about her body.
The police said that he consumed alcohol on a regular basis and would physically abuse his wife.
Around 3pm on the day of the murder, a teenage relative of the woman heard the two arguing, after which Malanie started screaming. She rushed to the lower flat of the house where she saw Vishnu and Malanie lying on a bed bleeding. An alarm was raised and the matter was reported to the police.
Vishnu was taken to Suddie Public Hospital. Malanie, who had sustained several stab wounds to her face and neck, was pronounced dead on arrival at the hospital.
A bloodstained cutlass and a knife were recovered by the police.
Bail was refused by Magistrate Scarce and the Vishnu Narine was remanded to prison until January 8th, when the preliminary inquiry into the charge is expected to commence.
Around the Web