A miner was killed yesterday morning after a pit cave-in at the White Hole/Red Hole area, near Mahdia, Region Eight.
The deceased has been identified as Terry Lobert, who was part of a six-man crew that was working in the mined-out pit when it caved in.
Stabroek News was told that one of the miners saw the wall beginning to cave in and yelled out to the others. In the commotion, five miners managed to escape and soon realised that Lobert was not with them.
They quickly began digging by hand in the area where they thought Lobert might have been buried. A nearby excavator was subsequently brought to the scene to assist in the digging. The efforts, however, proved futile.
The cave-in occurred at approximately 9.30 am.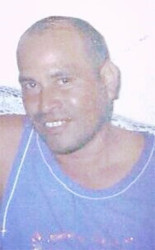 Stabroek News was told that Junior Social Protection Minister Simona Broomes and a labour department team that is in Mahdia visited the site of the cave-in and found that the incident was the result of negligence. As a result, the owner of the operation may face charges for safety violations.
Stabroek News understands that since the pit was already mined-out, it was incredibly unstable and that operations should not have been ongoing at the site.
The dredge owner was taken into police custody but was later released after being questioned.
The ministry and the Guyana Geology and Mines Commission (GGMC) will be investigating the cave-in.
The GGMC, in a statement, said the accident follows on the heels of several publications on mines safety in the weekend print media and on GGMC's weekly radio programme.
"The heightened awareness that the field officers for GGMC have attached to safe mining practices have been well received by all the operations/operators visited but the sustained awareness at all levels must be observed if these types of occurrences are to be avoided," it said.
"The GGMC calls on all miners to be cautious and aware of the typical hazards in mining and to follow mining and safety regulations to bring an end to these unnecessary accidents," it added.
The Commission noted that this specific area was among those targeted for inspection after the accident in May at Konawaruk, Region Eight that resulted in the death of 10 men and serious injuries to seven others.
On assuming office, the APNU+AFC government had commissioned an inquiry into pit collapses and its findings were released. Steps were to have been taken to avoid recurrences.
Sixty-two men lost their lives in the mining sector during the years 2010 to 2015, with 28 deaths occurring in the fifteen months up to September this year.
In many cases it was found that in steep or high wall pits there was poor 'benching' or no benching in some cases. Open-cast mines are dug on benches, which describe vertical levels of the hole very similar to the various levels used in terrace farming to prevent erosions on steep surfaces.
Around the Web