A Brooklyn, New York jury has ordered Delta Airlines to pay US$759,000 ($158m) in damages to a Guyana-born security guard who was arrested after a baggage handler planted cocaine in his suitcase, the New York Daily News reported on Thursday.
"I must give praise and thanks to God!" a beaming Roger Levans was quoted as saying outside the Brooklyn Federal Court, after the jury deliberated for only two hours and found the airline was negligent.
The report said that when he was stopped at the John F Kennedy Airport in January, 2011, after a Delta flight from Guyana, Levans told Customs officers he was bringing back "cooked rabbit." He was later arrested after officers found three bricks of cocaine alongside the food in his suitcase.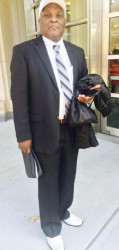 The security guard spent one day in jail and lost his job at Yankees Stadium.
While Levans was free on bail, the report said, federal authorities determined that his bag was indeed tampered with after he had checked in his luggage.
A corrupt baggage handler apparently tied a ribbon to the suitcase with the drugs so it would be recognised by an accomplice in New York City, according to court papers.
The circumstances of the case would suggest that the cocaine was placed in his suitcase by a baggage handler at the Cheddi Jagan International Airport, Timehri, after Levans had checked in for his flight. It is one of the reasons why passengers leaving Timehri usually utilise plastic wrap on their suitcases.
Levans' security guard licence was eventually restored, but he did not get back his job at Yankees Stadium. Instead, his employer assigned him to a lower-paying post at a construction site. "In all my life, I never had a handcuff on my wrist or spent a day in jail until this happened," Levans said, according to the report. "It was an ordeal."
Delta's lawyer Michael Crowley had argued to the jury that the airline was not responsible for whoever put the drugs in Levans' bag. He said the airline will appeal the verdict.
Around the Web