First Lady, Sandra Granger yesterday afternoon joined residents and members of the Rose Hall Town Youth and Sports Club to launch their first ever 'Christmas Village and Christmas Tree Light-up' at the Rose Hall Town Primary School, Berbice, Region Six.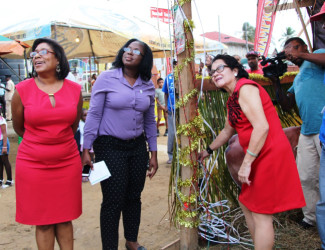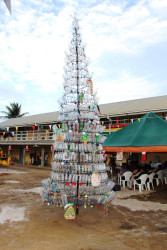 A release from the Ministry of the Presidency said that the First Lady praised the initiative, noting that it captured the true reason for the season, as well as advertises the local producers.
"I want to commend the Club and the management for this novel idea. I want to commend them also for acknowledging and recognising the importance and reason for this season; that Christmas is about the birth of Christ, about hope, about sacrifice and that is why we are joyful at Christmas.
I also want to thank the Club for bringing out the commercial aspect in collaboration with the Minister of Tourism. I hope 'The Christmas Village' can be a happy birthday in years to come in Rose Hall," Mrs. Granger said, according to the release.
Mrs. Granger also recognised the efforts of the students from the Guyana Sugar Corporation (GuySuCo) Training Centre, who made the entire Christmas tree from recycled plastic bottles and other materials.
"I commend the ingenuity of the GuySuCo trainees with their sustainable Christmas Tree which is both imaginative and environmentally friendly," she said.
Around the Web