In keeping with a promise he made to the residents of Lusignan, President David Granger yesterday handed over a $2M cheque to the Good Hope-Lusignan Learning Centre to support its work in 2016.
A release from the Ministry of the Presidency yesterday said that the President made the presentation during a visit to the Centre to spread holiday cheer to children in the community. He was accompanied by Minister of Social Cohesion, Amna Ally, and Minister within the Ministry of Public Infrastructure, Annette Ferguson.
"This is our commitment to ensure that the work of the Learning Centre continues into the next year. I am very happy with the results that have been coming out of this Learning Centre year after year… as far as I am concerned, this Learning Centre is helping you to help yourself," the Head of State said.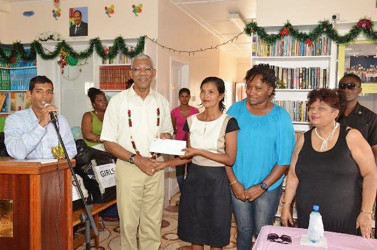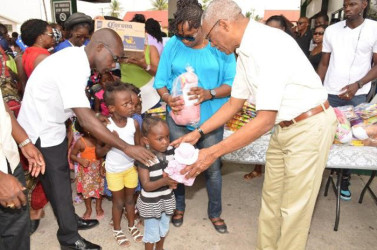 The release said that Granger also assisted in the distribution of toys to hundreds of children from Lusignan and its environs, as well as at Buxton-Friendship. At both locations, he encouraged residents to continue to maintain an atmosphere of peace and goodwill as Guyanese prepare to celebrate Youman Nabi on Thursday and Christmas on Friday.
At the Wilson Gas Station tarmac in Buxton, the release said that the President thanked Morris and Jocelyn Wilson, who for several years have helped ensure that children in that community experience the joy of the festive season.
He also spoke of the importance of family, saying that it is for this reason that he made the decision to pardon 11 mothers from the New Amsterdam Prison. The women, who were imprisoned for non-violent, non-drug related crimes, will be released to their families today, the release said.
Around the Web