The Essequibo River island of Wakenaam is to benefit from ferry services on an extra day and the trip will now run directly to Parika instead of stopping at Leguan.
These were among improvements to the service discussed on Friday on Wakenaam by Minister in the Ministry of Public Infrastructure (MPI), Annette Ferguson.
MPI in a release yesterday said that following a return visit to Wakenaam on Friday, a week after she would have made an initial trip to the island, the improvements were agreed. The changes were to take effect from yesterday.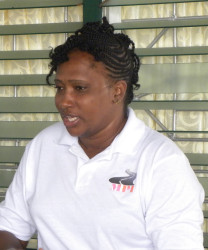 During the first visit, MPI said that Ferguson had visited several sites on Wakenaam and interacted with both officials and residents. Residents criticised what they deemed substandard service at the Wakenaam stelling.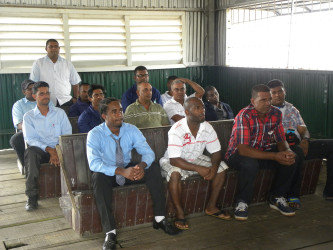 Following the complaints raised, the release said that Ferguson told residents that she would return to the island along with officials under MPI. On Friday she was accompanied by officials, including the General Manager of the Transport and Harbours Department (T&HD), Marcelene Merchant and T&HD Traffic Manager, Stephan Skekel. The meeting took place at the Wakenaam stelling.
MPI said that during Friday's meeting, residents highlighted issues and problems they would have experienced as recently as last week. Amongst the complaints were erratic service, long waits, and unprofessionalism on the part of T&HD staff.
"It's not fair for us to sit on a ferry for hours, and this is happening very often," a resident said, according to MPI.
"Nobody wants to turn up and hear the time change or the boat ain't coming," another resident said. Others complained that the alternative of speedboats was too expensive, even for those with small families.
Residents offered suggestions on how the situation could be improved and said that if a fixed schedule is in place, regardless of the time, they would make themselves available.
These suggestions were noted by Ferguson and after brief discussions changes to the service were announced.
Ferguson also said that the T&HD General Manager would speak with technical persons to determine ways to cut down on travel time. She added that the professionalism of T&HD employees would come under scrutiny.
"If employees of T&HD cannot adhere to what they are supposed to do, then somebody will have to feel the brunt of it," Ferguson stated. She added that those who do poor jobs will be disciplined.
Around the Web