A Lusignan resident sustained second degree burns to his back while saving his children who were trapped in the upper flat of their Lusignan, East Coast Demerara (ECD) home which was completely destroyed in a fire of unknown origin early Sunday morning.
Patrick Sebastian, who is a supervisor of a gas station, occupied the Lot 99 Lusignan Pasture, ECD home with his wife and four children. Reports revealed that the fire started in a bedroom, minutes after midnight on Saturday.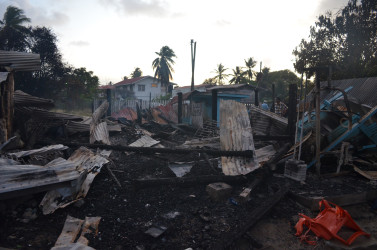 Speaking to this newspaper at the burnt-out site yesterday, where he was accompanied by a number of villagers and neighbours, Sebastian said he was awakened by the screams of his children alerting him that there was a fire. The man said he was unable to save anything from his home since his main focus at the time was to save his children. This he managed to do before the fire completely engulfed the entire house within a matter of minutes. Approximately $8 million in losses were estimated.
Questioned about rumours that the blaze was caused by the children playing with matches, Sebastian responded, "It was after midnight; they were all sleeping. How and why will they be playing with matches at that hour?" He also said that the fairy lights were all unplugged by him before bedtime so that was out of question.
The Guyana Fire Service was highly praised by residents for its quick response, although they noted that it was rather unfortunate that nothing could have been saved.
Sebastian lamented that all his family's holiday plans were ruined. His wife and children are seeking shelter at an aunt's place while he will be sleeping under a shed at the burnt structure until arrangements are made for reconstruction or otherwise. The house was not insured therefore all expenses are now left in Sebastian's hands.
Anyone willing to render any form of assistance to the family can make contact on telephone numbers 687-7859 or 646-0607.
Around the Web