Last Christmas, Natasha Dash, a single mother of five, and her family were in dire straits, but having received the keys to a newly renovated house from members of the Stevedore Housing Scheme community yesterday, they are guaranteed a happier season this year.
The project was initiated by a number of persons in the community and it was intended to assist Dash enjoy better living conditions and to also bring up her children in a beneficial way.
One of the motivators of the project, Mr Boston (only name given), who assisted in making things work as planned, said he was inspired after he saw two of Dash's children hanging out clothes one afternoon and thought that they deserved a better life.
Among the others on board were Cevon's Waste Management, The Garage, Hopkinson Mining, George Phillips Electrical, Dynasty Sports Bar, Troy Codogan from Ansa McAl, Guyana Power and Light (GPL), Commander of 'B' Division Christopher Griffith and Corporal Williams from East La Penitence Police Station.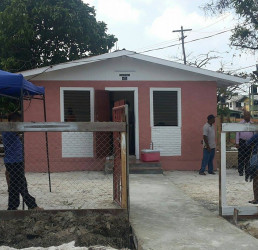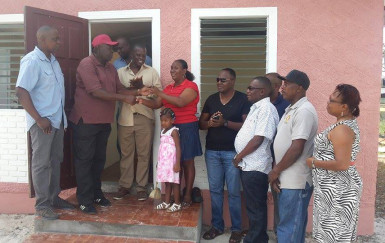 Dash is a security guard and her children are between the ages of 18 and four years old. She finds pleasure, like every mother, in seeing her children happy not only at Christmas.
She related that prior to her home being renovated, she lived with her children in a house without doors and windows and which had a leaky roof. "At nights we didn't even know where to put our heads," Dash said with joy in her voice.
She also said that last Christmas some persons entered the house, since it had no doors, and stole the few items, including some wine, she had stored for the celebration of the day.
The newly renovated two-bedroom, flat, concrete house at Lot 3518 Stevedore Housing Scheme, has a living room space, kitchen area and indoor washroom facility. Part of the community project was the setting up of electricity and water supply for the family.
Dash also received a new gas-stove, refrigerator, sofa set and two beds.
She said she plans on having a quiet but better Christmas this year, while effusively thanking the members of her community who she also gave a Thank You card to yesterday at the simple handing over ceremony held front of the house.
She expressed joy at being able to spend this time with her children as a working single parent and also having a proper meal together.
Apart from being handed the keys to her new home, Dash also received a quantity of food stuff and the initiators of the community project have promised that for the new school term they will fully deck out her children with full uniforms and haversacks containing all the necessities to send them off to school.
Around the Web