Transparency Institute Guyana Inc (TIGI) yesterday slammed government for its "cavalier" treatment of allegations against interim Guyana Power and Light (GPL) chief Colin Welch saying that he should be sent on leave to facilitate an investigation.
When contacted by Stabroek News, Welch said he has not heard of TIGI and what they did and he would not be responding to questions from Stabroek News in relation to reports in the Kaieteur News. "I am going to simplify this matter to you. That entire communication is a total fabrication, that is baseless…It is a total fabrication, someone made it up," he said.
In a statement yesterday pointing out that Welch, GPL's Chief Executive Officer (CEO), has been implicated in irregularities involving the procurement of prepaid meters worth US$4M by GPL, TIGI urged that he be sent on leave to facilitate an investigation.
Complaints were made against Welch alleging that he was in communication with the bidder and supplier for the contract, Tesco PLC, a British firm and Shenzhen Clou Electronics Company Limited of China respectively urging them to supply false information.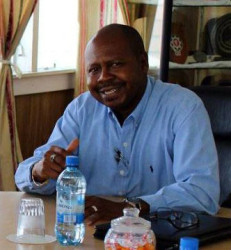 "Mr Welch is reported to have communicated with members of a bidding party and more specifically, a supplier and manufacturer of the items subject to the procurement process," the transparency body said while pointing out that with a view to ensuring the fundamental basic principles of impartiality, independence and integrity, the public procurement framework sets out clear ethical requirements by the procuring entity which necessarily includes the conduct of the CEO.
"More egregiously, it is reported that the CEO sought to promote the submission of documents falsely claiming that the manufacturer had historically met the purchasing requirements and therefore possesses the experience in the manufacture of the item, tipping the scale in this supplier's favour," TIGI said.
It denounced "the cavalier treatment by the Government of this matter where instead of a thorough investigation in the face of allegations against a sitting CEO, the matter is instead quashed which appears to have the effect of averting in-depth investigation, and giving the CEO the chance to correct himself in future, if not completely absolve him from any consequences of his actions."
The statement said that TIGI feels that this matter has not been treated with the gravity that has been meted out to other government officials facing similar allegations.
"Troublingly, the Minister, in aborting this tender on the basis that it started under the PPP, fails to appreciate that an illegal act is still illegal regardless of when it is committed or its origin. TIGI is further dissatisfied that the Director of Public Information, in a press statement said that "Minister (David) Patterson… instructed an independent review of the complaints. All of the main complaints were found to be invalid" since no information is given on who constituted the investigation team, nor any assurance of a transparent investigation having taken place," the body declared.
"GPL is a major public entity and the Minister must understand that transparency is expected of and from him as proper conduct is expected from the CEO. TIGI therefore calls on the Minister to disclose to the public the report on the investigations so that the public can decide whether or not an independent review is required," the statement said.
It noted that the procurement regulations provides for complaints from a bidder in such cases where they feel they have been disadvantaged and said such recourse should be considered in this case by the bidder who provided this information.
"Under the new government, senior officials have been sent on leave, in many cases without conformance to due process, on which TIGI has voiced its disapproval in the past. This is as good a case as any, for the individual to be sent on leave to facilitate an investigation but instead the public is being told that the future of Welch with the power company will be determined by the new Board," TIGI declared.
The statement said that TIGI expects consistency from the government and placed on record, the body's grave concern at the lack of urgency being demonstrated.
Kaieteur News had reported that Welch had instructed a supplier to lie about the multi-million meter contract. In response, Director of Public Information Imran Khan released a statement on behalf of Minister of Public Infrastructure Patterson which said that after the Minister received complaints, he aborted the tender process for prepaid meters and instructed that the process which started under the PPP/C administration be set aside and for it to be retendered.
According to the statement, Patterson then instructed an independent review of the complaints and all of the main complaints were found to be invalid. New tendering procedures under a new team has been set in motion, it said.
Speaking to Stabroek News briefly yesterday Welch said the allegations reported by Kaieteur News based on texts and Skype were a "total fabrication." He said he would not be responding to questions from Stabroek News in relation to reports in the Kaieteur News and when told about the TIGI statement, said he was not sure which Minister the TIGI statement was referring to.
When asked if he was ever spoken to by persons conducting an independent review, Welch said the question would need to be posed to Patterson.
Stabroek News attempted to reach Patterson multiple times but he could not be contacted up to press time.
The decision to appoint Welch to the position of CEO following the dismissal of former CEO Bharat Dindyal, was criticised heavily.
Former Prime Minister Sam Hinds had in August revealed that prior to 2012, Welch had no utility experience. The former Prime Minister, who had responsibility for the power sector for 23 years, explained in a letter to Stabroek News how Welch arrived at GPL.
"Sometime in 2012, Mr Welch was introduced to me as a Guyanese who had studied at Harvard, had worked at major US companies and who was keen to contribute his expertise and experience in management to his country, specifically at GPL. Mr Welch although he had no utility experience, seemed to be just what GPL needed. He could be a great addition to the executive management level where there was a shortage of numbers and everyone seemed too much stuck in hands-on day-to-day work. I requested the Chairman to negotiate with Mr Welch with intent to hire him, seeking the best (lowest) acceptable compensation package.
"The first appraisal of Mr Welch by the CEO (Dindyal) was blistering. I ruled that it was too early to make such final determinations. Mr Welch should have more time to catch his feet," the former Prime Minister had stated.
Stabroek News had on several occasions asked GPL for information on the CEO's credentials but no information has been provided.
Around the Web